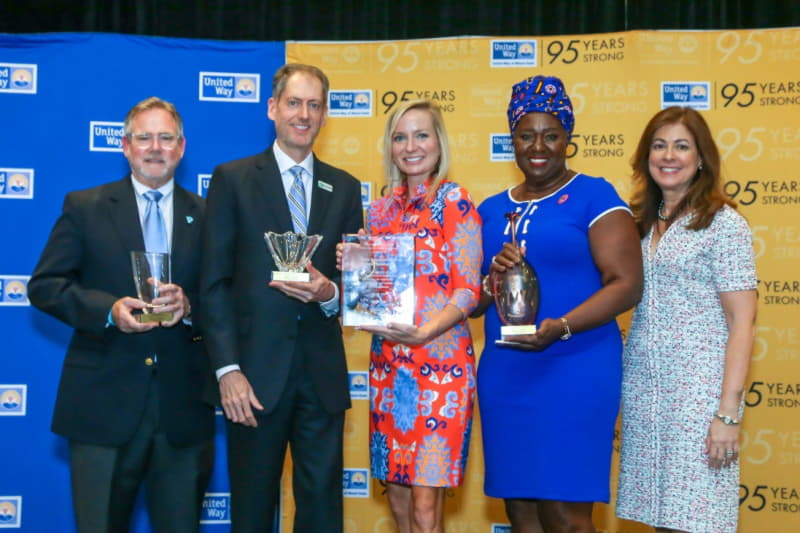 Honoring five community builders: James E. Morgan III, Thema Campbell, Brent McLaughlin, Representative Holly Raschein and Jazmin Neadle
United Way of Miami-Dade continued to celebrate 95 years of service and impact at its 2019 Annual Meeting and Volunteer Awards. With every year of fighting for a stronger Miami, United Way honors five remarkable community members for their efforts to help improve the education, financial stability and health for children, families and older adults within our community.
The past year is one for the books, as United Way-funded programs and direct services positively impacted more than 100,000 of our friends and neighbors. The organization also rallied nearly 5,000 volunteers who gave 20,000 hours of their time to create meaningful change by reading to children, refurbishing shared spaces, beautifying schools and helping families file their tax returns. While 2019 marks an important milestone, it also marks a few firsts: the United Way Center for Excellence in Early Education received high marks from two national studies for delivering transformational results for children and families; Women United launched Women United for Our Future, an endowment fund to transform the lives of women and girls for generations to come; and Small Business United began a powerful network of philanthropic small businesses who are convening, sharing insights and participating in service projects.
As is customary, a select group of community leaders were celebrated for their efforts to build a stronger Miami, honorees included: James E. Morgan III, Thema Campbell, Brent McLaughlin, Florida House Representative Holly Raschein and Jazmin Neadle.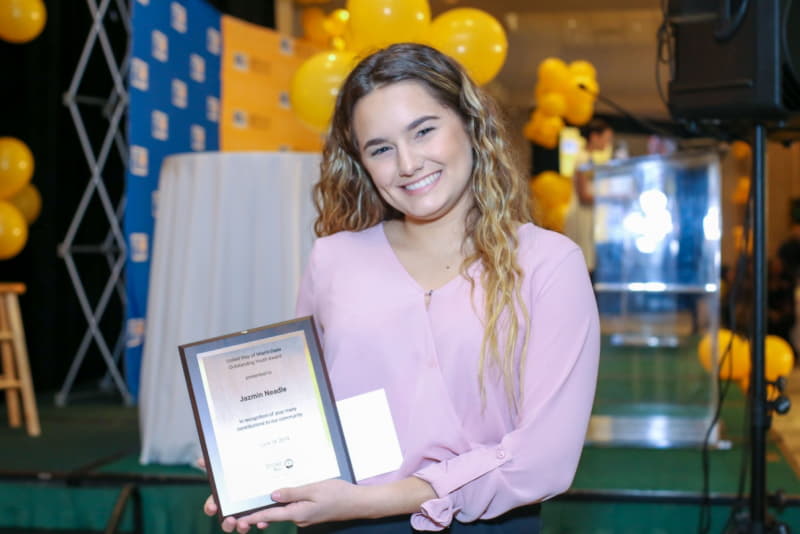 Additional information on the awards and winners are below:
The Dorothy Shula Award for Outstanding Volunteerism recognizes an individual whose work in the community brings hope, promise and opportunity into the lives of others and has left a lasting positive impact on a person, group or community. James E. Morgan III, vice chairman of the Board of Directors of Branches, uses his passion for serving others to guide him. For the last 15 years, Morgan has been heavily involved in Branches' annual Thanksgiving Meal Delivery doing everything from cooking turkeys to leading deliveries. He also operates a truck that provides Miami's homeless residents the opportunity to shower in privacy and with dignity for The Breakfast Club. Morgan is also actively involved with the Miami Lighthouse for the Blind and the St. Thomas Episcopal Parish School Board. Extending his service abroad, he has led many mission trips to Haiti before and after the devastating earthquake of 2010. At United Way of Miami-Dade, Morgan served as a trustee and ex-officio member of the board and chairman of United Way Young Leaders.
The Essie Silva Community Builder Award recognizes an individual who is making a difference in addressing particular community problems affecting different cultural or ethnic groups. Thema Campbell, president and CEO of the World Literacy Council of Florida, founded Girl Power, a program structured to reduce the suspension and arrest rates of adolescent girls. Since the beginning of Girl Power, the participants' suspension rates have dropped by 85% and arrest rates by 90%. Campbell also serves as an executive board member of the Miami-Dade Youth Crime Task Force and is a member of the Liberty City Community Action Agency.
Monsignor Walsh Outstanding Human Services Professional Award recognizes a human services professional who has dedicated his or her career to helping others by shaping a caring, responsive, social service delivery system and has afforded hundreds of people in our community an opportunity for a healthy, productive and quality life. Brent McLaughlin, executive director of Branches, has worked to grow the organization to include children and youth development services, asset-building services for families and a transformational culture. McLaughlin serves as board member of the Chapman Partnership for the Homeless in Miami, board chair of Miami-Dade Emergency Food and Shelter Program and board chair of the long term disaster recovery organization (FRIEND) for Miami-Dade County.
The Public Service Leadership Award recognizes public servants and community leaders who display a remarkable sense of commitment to hard work, courageous leadership and a dedication to improving services for children and families. Florida House Representative Holly Raschein of the 120th district including Monroe and southern Miami-Dade counties, who served as the sponsor of a United Way bill to help expand financial and tax preparation services to more working families throughout Florida. Raschein is also active in numerous organizations including the Florida Defense Support Task Force, Florida Council on Arts & Culture, and the National Foundation of Women Legislators.
The Outstanding Youth Award recognizes an individual 18 years of age or younger for their leadership, commitment and character through service and volunteerism. Jazmin Neadle founded A Sweet Chance, a nonprofit that provides young girls in foster care with their very own quinces or Sweet 16 celebration complete with a photo shoot, dress and more. Jazmin celebrated her 15th birthday with a traditional Quinceañera photo shoot thanks to her adoptive mom. She set out to share the experience with other girls in the foster care system and is now planning a second Quinceañera or Sweet 16 celebration for 40 foster teens.
Those seeking to volunteer, visit www.volunteermiami.org
About United Way of Miami-Dade:
Since 1924, United Way of Miami-Dade has been an innovative force in the community, successfully responding to emerging needs and transforming people's lives. Today our work is focused on education, financial stability and health—the building blocks for a good life. We invest in quality programs, advocate for better policies, engage people in the community and generate resources. To learn more, give, advocate or volunteer, visit www.unitedwaymiami.org,www.facebook.com/UnitedWayMiami, www.twitter.com/UnitedWayMiami, or www.instagram/UnitedWayMiami.