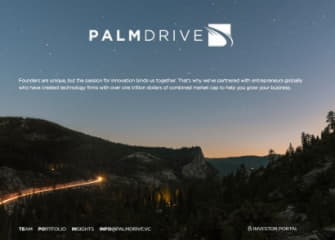 Palm Drive Capital, the New York-based venture capital and growth equity firm, today announced the first close for its third fund. The firm raised a total of $44.35 million toward its $100 million goal, far exceeding the typical amount for a first fundraising round. The focus of Palm Drive's third fund will be early-stage deep tech and enterprise software companies.
Palm Drive is on track to raise almost double the amount of its previous fund, Fund II (February 2018), which had a fund size of $53 million and $58 million in co-investments. In the last twelve months, Palm Drive has made thirteen new investments. The firm also recently led a $15.2 million funding round for its portfolio company, Datacubes, a leading underwriting decision platform for US commercial property and casualty insurers.
For Fund I (April 2016), Palm Drive raised $19 million, with $67 million in co-investments and six exits. Across its three funds, the largest proportion of investments are in enterprise software with (44%), followed by e-commerce (12%), healthcare tech (9%), insurance tech (9%), blockchain (8%), and fintech (4%). Of these investments, eight are unicorns: Clover Health, Carta, Bitmain, Magic Leap, Zenefits, Jet.com, Rappi, and WeLab.
Palm Drive invests primarily in the United States, and has a rapidly growing presence in emerging tech centers throughout the northeast, midwest and south. The firm also looks beyond the United States for investment opportunities. By leveraging its expansive network, Palm Drive has invested in entrepreneurs and companies throughout Europe, Africa, South America and Asia.
"We make it our mission to identify high-growth technology companies early on, regardless of their location, and conduct a rigorous diligence process that includes proprietary competitive benchmarking," said Seamon Chan, Co-founder and Managing Partner of Palm Drive Capital.
A key element of Palm Drive's investment approach is to target underserved markets, sectors and founders. Female founders, in particular, have been a major focus of the firm, which has pledged a seven-figure amount to non-profit organisation The Billion Dollar Fund for Women.
"Since our launch in 2014, we've made sure to embrace the notion that innovators are anywhere and everywhere," added Mr. Chan. "Our core business belief is that the most successful founders are principled, visionary and mission-driven. We're proud of our track record of recognizing and investing in high-potential founders from across five continents, and we are excited to see what new opportunities this funding round will bring."
About Palm Drive Capital
Palm Drive Capital is a New York-based venture capital and growth equity fund that invests in leading software and internet companies with a US focus. Since their launch in 2014, they've espoused the notion that innovators are everywhere. They also believe that the most successful founders are visionary and principled. Palm Drive has a unique combination of strong Silicon Valley roots and New York financial discipline. In addition to its investments on the West Coast, Palm Drive has a presence in emerging US tech centers including the Northeast, the Midwest, and the South. With backing from top entrepreneurs and institutions, Palm Drive also has an expansive and differentiated network that spans across the United States, Europe, South America and Asia. Portfolio companies include Carta, Clover Health, Rappi, Jet.com, and Boom Supersonic. For more information, please visit www.palmdrive.vc.