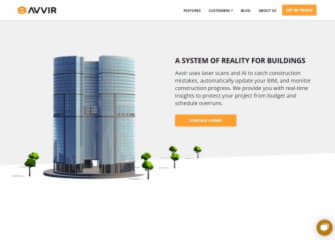 Avvir, Inc., an automated construction platform for monitoring and building digitization, announced today that it raised a $2.5 million seed round led by Khosla Ventures partner Evan Moore with participation from Metaprop and Localglobe.
Rework is responsible for 10% of total construction costs. Most of that is preventable if mistakes are caught early and inspection is done often. Avvir enables this.
"Construction planning is increasingly digitized but once you go into the field, the connection to the digital model is often lost. Avvir reconciles the digital model with reality as a project is built, allowing owners to see what's really happening and to have an accurate set of as-built plans post construction. Avvir's partners have already saved millions of dollars in avoided rework. I'm thrilled to back the Avvir team, an exceptional group of technologists working to help their partners in the industry become more productive," said Evan Moore of Khosla Ventures.
Avvir is building a "system of reality" for buildings, a system of record that connects building plans to built reality and syncs them automatically, obviating the need for manual data entry. Such a system will effectively eliminate rework, empower building owners and general contractors to better manage their construction programs, and ensure that building plans delivered to owners at the end of construction accurately reflect as-built conditions.
The Avvir platform leverages computer vision algorithms to compare laser scans and photographs captured onsite to a building information model (BIM) and then automatically update it, effectively creating a digital twin of the site. This digital twin can be used for construction monitoring purposes during the construction project and as a platform for building management once construction is complete.
This round of funding will enable Avvir to scale its engineering team as well as its sales in the U.S. and abroad. It will also enable expansion of the current offerings. The Avvir team will be building out an offering in the facility management space, improving its existing algorithms with respect to both accuracy and turnaround time, and building out a progress monitoring tool that can automatically update construction schedules.
"We are incredibly excited to find partners who are as excited by our vision for the future of the built environment as we are," said Raffi Holzer, CEO, and Co-Founder of Avvir. "We think their collective networks and operational expertise will help grow Avvir exponentially over the next year or two," he continued.
"Avvir is a great example of why we are so excited about the types of innovation we're seeing in today's PropTech market. Avvir is applying cutting edge technology to solve a pervasive and expensive issue in the construction industry. Avvir's technology enables key stakeholders in a commercial construction project to spot discrepancies between the as-built product and the project plans in real time, which gives project owners the ability to quickly and inexpensively fix a discrepancy if it is problematic, or update the project plans to reflect the as-built reality if it is benign. The value of such a solution is obvious–significant time and money saved during the construction process and an accurate digital twin for efficient facility management after a project's completion," said Zak Schwarzman of MetaProp.
Avvir is currently in pilot with some of the largest companies in the world including Facebook, ExxonMobil, and Goldman Sachs, as well as municipalities like the NYC EDC. Avvir has already helped construction lenders like iStar make payment commensurate with completed work, helped the University of Pennsylvania identify issues on a major hospital project in near real time and helped the United Arab Emirates ensure their new mission to the UN was completed to specifications.
About Avvir
Avvir is out to change the way we interact with the built environment. We create and continuously update digital replicas of buildings that serve as the building's system of record. We do this by comparing the 3D design models (known as BIMs) created at the outset of a building's construction to laser scans and photographs of the ever-changing reality. During construction, this enables stakeholders to identify construction errors and monitor progress. Once a building is occupied, we enable that digital twin to serve as a platform for the internet of things, integrating data from hundreds of connected sensors in a common data environment.
About Khosla Ventures
Khosla Ventures provides venture assistance and strategic advice to entrepreneurs working on breakthrough technologies. The firm was founded in 2004 by Vinod Khosla, co-founder of Sun Microsystems. With over five billion dollars under management, the firm focuses on a broad range of areas including consumer, enterprise, education, advertising, financial services, semiconductors, health, big data, agriculture/food, sustainable energy, and robotics. Khosla Ventures is headquartered in Menlo Park, Calif.
About LocalGlobe
LocalGlobe is a London-based venture capital firm focused on seed investments, primarily in the UK. Backing ambitious founders since 1999 including Transferwise, Zoopla, Improbable, Citymapper, Algolia, and Robinhood.
About MetaProp
MetaProp is a New York-based venture capital firm focused on the real estate technology ("PropTech") industry. Founded in 2015, MetaProp's investment team has invested in 100+ technology companies across the real estate value chain. ?The firm manages multiple investment funds for both financial and strategic real estate investors representing a pilot- and test-ready sandbox of 15+ billion square feet across every real estate asset type and global market. The firm's investment activities are complemented by pioneering community leadership including the PropTech Place innovation hub, MetaProp Accelerator at Columbia University programs, global events NYC Real Estate Tech Week and MIPIM PropTech NYC, and publications Global PropTech Confidence Index and PropTech 101.