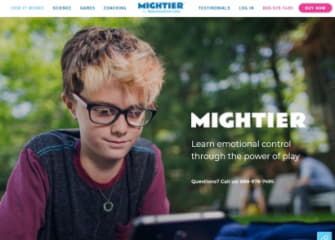 Mightier, a kids behavioral health company out of Boston Children's Hospital, announced a $6.6 million Series A funding led by Foxkiser with participation from Asset Management Ventures, FundRx and existing investors including Founder Collective, Slow Ventures and Project 11. Company funding now totals more than $10.1 million. Mightier was developed and tested over seven years at Boston Children's Hospital and Harvard Medical School to give kids a safe place to practice emotional control, develop coping skills, and build the emotional muscle memory needed to help them respond to life's challenges. Kids wear a heart rate monitor as they play bioresponsive video games. As their heart rates go up, the games get more difficult. During these moments, the player is given the opportunity to practice calming skills, like deep breathing and visualization, to bring their heart rate back down. The more kids learn to stay calm, the more they succeed in the games.
The additional funding will be used to grow the product, marketing, and engineering teams, and to invest in new consumer acquisition and engagement strategies. To date, Mightier has helped more than 3,000 families who have played more than 2.5 million games on the Mightier platform. The company has grown its consumer base by more than tenfold over the last 6 months.
"We are beyond excited to be partnering with new investors who believe in our mission and can help us grow," says Craig Lund, Co-founder, and CEO of Mightier. "We created Mightier to empower kids to overcome the emotional challenges they face every day. This investment will help us reach even more families. Every day we hear from parents that their kids are struggling to engage with traditional methods, like talk therapy, to learn self-regulation. Mightier empowers kids to practice calming skills in their moments of need so they automatically respond differently in life."
Three clinical trials at Boston Children's Hospital, Harvard Medical School, and Massachusetts General Hospital showed significant improvements in impulsive behaviors and household stress for kids with elevated levels of anger, tantrums, and anxiety. After 12 weeks with the Mightier program, participants saw a 62 percent reduction in outbursts, 40 percent reduction in oppositional behaviors, and 19 percent reduction in parent stress.
Additionally, pilot trials in schools saw children using Mightier to be three times more likely to remain in the classroom.
The Mightier program offers a library of 25 bioresponsive video games to meet the different tastes and skills levels of kids aged 6-14. The company works with popular video game developers and then adds the Mightier emotional learning layer on top to keep kids engaged and learning. The current library of games includes two recipients of the Apple Editors Choice award and two games with more than a million downloads. New games are added monthly.
The company currently offers two program options – The Mightier Starter plan comes with the heart rate monitor, Mightier app and library of games (available on both iPhone and Android), an introductory coaching session with a licensed clinician, an online hub to track your child's progress, parent webinars and resources, and access to a private community of Mightier parents. The Mightier Foundation plan includes all components of the Starter plan as well as a dedicated Mightier tablet, access for the whole family, and regular monthly coaching sessions with a personal licensed clinician.
For more information please visit: www.mightier.com
About Mightier:
Mightier was founded in 2016 out of Boston Children's Hospital with the mission to help millions of kids discover their emotional strength. As a result of watching kids struggle with stress and emotional control every day at the hospital, Mightier Co-founder Dr. Jason Kahn started building video games to treat behaviors associated with emotional dysregulation. After years of both inpatient and outpatient clinical testing and in-home pilot programs, Mightier commercially launched in July 2017. To date, more than 2.5 million games have been played on the Mightier app. To find out more visit: www.mightier.com