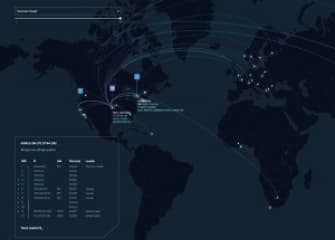 Path Network, Inc. has secured seed funding in excess of $1M USD for the purposes of further bolstering our capacity for mitigation services worldwide and for expanding into the European and APAC regions, subsequently leading to increased client acquisition efforts. The seed round is a precursor to a Series A capital raise in Q3 of 2019.
Path Network is a network intelligence and security firm that combines novel DDoS mitigation and network optimization technology with a distributed user-base of spatially differentiated "operator nodes" that are capable of delivering granular network insights previously thought to be unattainable at any significant scale.
Within the Path Network intelligence suite, our powerful analytical tools are combined with our global, user-run monitoring nodes to provide unprecedented global coverage and insights into website, application, and network uptime, in addition to providing performance metrics. In the age of globalized commerce and ever-increasing network stability reliance, these insights are immeasurably valuable.
The company is now proud to announce that it has raised over $1M USD from angel investors for the purposes of fueling the further improvement of its capacity with regards to mitigation services, in addition to expansion into markets across Europe and Asia. This investment will further allow Path Network to significantly increase its client acquisition efforts which is a significant step towards an anticipated Series A funding round later in 2019.
Overall, Path represents a growing evolution in the network security industry, within which it continues to position itself competitively. This is due to unique factors such as the following: full network visibility from real end-users; zero monitoring node infrastructure costs; global monitoring coverage from millions of user-powered monitoring nodes; monitoring coverage from both desktop and mobile devices, on all operating systems, while providing high resolution uptime monitoring; custom protocol queries; "last mile" route analysis; SLA enforcement; Net Neutrality checks; anycast optimization; and a host of other services built on our ever growing platform.
"We identified an opportunity to disrupt and innovate in a space that was in desperate need of new solutions to the ever-changing problems that present themselves," said Marshal Webb, Path's founder and CEO. "With this latest investment, we are able to continue our strategic path of providing coverage, capacity, and best-in-class services."