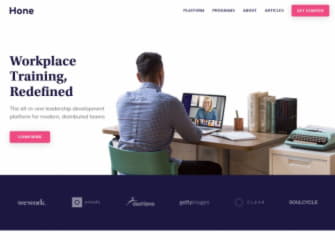 SAN FRANCISCO--(BUSINESS WIRE)--Hone, the reimagined workplace training platform for modern and distributed teams, today announced a $3.6 million seed round led by Cowboy Ventures and Harrison Metal. Additional investors include Slack Fund, Reach Capital, Rethink Education, Day One Ventures, Entangled Ventures, CEO of Masterclass David Rogier, CEO of Guild Education Rachel Carlson, Co-Founder of Atrium HQ Pete Kazanjy, and Co-Founder of Grovo Jeff Fernandez.
"Companies large and small hope to develop modern leaders who work with increasingly distributed and diverse teams. It's amazing that until now there hasn't been a modern solution to deliver an interactive, scalable, convenient and measurable training and development platform to help companies develop modern leaders and managers," said Aileen Lee, founder and managing partner of Cowboy Ventures. "The Hone team's personal connection with the market need and their skillsets are incredibly suited to deliver a world-class, delightful solution to talent teams and employees around the world."
The new capital will accelerate Hone's platform expansion, support the company's rapid growth, and develop additional programs to serve fast-growing small businesses, mid-market and enterprise organizations.
Hone serves customers such as WeWork, Clear, App Annie, Dashlane, Omada Health, SoulCycle and others. The company is a member of the PeopleTech Partners network and is advised by top executive coaches, psychologists and practitioners to ensure its training is best-in-class. It has welcomed to its advisory team Josh Bersin, founder of Bersin™ by Deloitte and global industry analyst covering all aspects of the world of work and HR technology.
The Mandate to Modernize Leadership Training
The outdated corporate training and leadership development industry is sized at over $30 billion annually in the United States.1 Yet research shows, on average, trainees forget 70 percent of what they are taught within 24 hours of a training experience2. As well, teams are more geographically dispersed than ever; work-at-home has grown by 140 percent since 2005, almost 10 times faster than the rest of the workforce, with more than 4.3 million employees working remotely at least half the time.3 Hone is the antidote to current, traditionally expensive, time-consuming workshops and pre-recorded e-learning videos that don't fit today's busy schedules or remote workforces, or provide the interaction and feedback necessary to develop critical people skills.
Hone is the first ever large-scale platform for synchronous, online instructor-led training programs, enabling the spectrum of live corporate training needs in a single solution. With a focus on high-impact topics of leadership, management and people skills, Hone's interactive, 60-90 minute classes make training just another meeting on your calendar, with continuous support and uniquely measurable impacts on the organization.
"As we scaled FanDuel from five founders to over 500 employees across eight time zones there was no complete solution for training our emerging leaders, let alone a way to measure the impact of that training", said Tom Griffiths, CEO and Co-Founder of Hone, and former Co-Founder and Chief Product Officer of FanDuel. "As organizations grow ever more distributed, we were inspired to create Hone to modernize how the world's best companies develop their current and future leaders. We're thrilled to have this exceptional set of partners with us on that mission."
Other co-founders with Griffiths include Jeremy Hamel and Savina Perez, previously of CultureIQ, who both bring deep experience in the HR technology space.
Additional Thoughts on Hone Seed Funding
"The Hone founders' vision for education and personal development at work is exactly what the market needs. I see the need to improve the performance of people managers across industries and in companies of all sizes. Hone's technique of matching just the right training to just the right colleague at the moment they need via the Hone platform is powerful and highly effective. Investing was an easy decision," said Michael Dearing, founder of Harrison Metal.
"Live, expert-led experiences are still one of the most compelling ways to learn. Hone's innovative platform has the potential to unleash expert and instructor-led training in a highly scalable, engaging, and modern way," said Josh Bersin, Global Industry Analyst, Founder Bersin™ by Deloitte.
About Hone
Hone is the reimagined workplace training platform for modern and distributed teams. Launched in 2018 and headquartered in San Francisco and New York City, Hone's mission is to grow, connect and inspire the world's next generation of leaders. As the first ever solution for synchronous, online instructor-led training programs, Hone allows organizations of all sizes to easily source, manage and deliver best-in-class training, and measure the impact on their organization. For more information, visit www.honehq.com, and follow Hone on Twitter @honehq, Facebook, and LinkedIn.
About Cowboy Ventures
Cowboy Ventures is a seed-stage venture fund that was founded by Aileen Lee in 2012. The firm seeks to back exceptional founders who are building products that re-imagine work and personal life in large and growing markets. Cowboy Ventures has invested in companies such as Accompany, Brandless, Dollar Shave Club, Guild Education, Lightstep and Textio. The fund is based in Palo Alto, California. Visit cowboy.vc for more info.
About Harrison Metal
Formed in 2006 as one of the earliest seed-focused venture capital funds in Silicon Valley, Harrison Metal has invested in companies like PagerDuty, Guild Education, Heroku, Craftsy, Harry's, and Masterclass. The firm is particularly focused on seed stage investing in technology driven companies in consumer products, business services, and tools for software developers. Harrison Metal is based in Silicon Valley and was founded by Michael Dearing. Visit www.harrisonmetal.com.