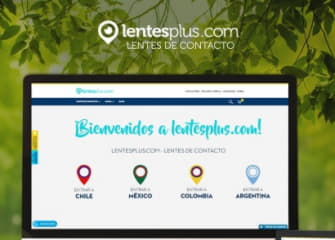 Lentesplus.com (www.lentesplus.com), a company that offers the most convenient and greatest value option to buy contact lenses, today announced the completion of its Series A round. Palm Drive Capital led this new round of financing along with existing investors IGNIA, InQlab, and other angels. The round has been structured in two closings, with US$3.8 MM committed in the first closing and US$1.2 MM expected in a second closing by the end of 2018. With this new round, the company has raised 9 million dollars in equity investments since its beginnings in 2014.
Seamon Chan, Managing Partner at Palm Drive Capital, stated, "With Lentesplus.com we see founders who are extremely dedicated to improving the consumer experience. Latin American consumers have been historically underserved and have had a lower contact lens usage relative to the rest of the world. By removing the friction and high-costs typically associated with purchasing contact lenses, Lentesplus.com is well-positioned to be a game changer and leader in reshaping Latin American commerce, in the same way that Jet.com and JD.com respectively did for the US and China."
In a market where customers are traditionally required to physically go to an optical shop, paying prices as much as 3x higher than the US and facing limited inventory and availability, the Lentesplus.com platform allows customers to purchase contact lenses online simply, efficiently and more economically.
Headquartered in Bogotá, Lentesplus.com operates in Mexico, Colombia, Chile and Argentina. The company's streamlined process allows for short delivery times (same day delivery in major cities) and seamless customer service, while offering competitive prices and a complete product offering via its digital platform. In LATAM, where 43% of the population suffers from some form of visual problem and requires eye care services, Lentesplus.com is bringing an innovative and highly convenient alternative service to the traditional market.
"We have seen the Lentesplus.com team consistently execute, develop and improve a world-class platform and service that delights customers. We are thrilled to participate in this next phase of growth, and look forward to working alongside new investors, Palm Drive, and incorporating their deep sector experience," commented Christine Kenna, Partner at IGNIA.
We are glad to continue supporting Lentesplus.com in its path of growth with old and new partners who add value to the company, said Gregorio Márquez, Director at InQlab.
Jaime Oriol, Co-Founder of Lentesplus.com, said, "we enthusiastically welcome Palm Drive on board and are grateful for the support of our investors to support our international expansion."
About Palm Drive Capital
Palm Drive Capital is a venture capital and growth equity firm based in New York City investing in high growth technology businesses. Since our launch in 2014 we've espoused the notion that innovators are everywhere. We also believe that most successful founders are visionary and principled. Accordingly, we've invested in mission-driven entrepreneurs across five continents and leveraged our international network of founders on their behalf to unlock growth. Humility, integrity, and growth are core principles of the fund that we strive to manifest in our partnerships with founders every day. Past and present portfolio companies include Jet.com, Welab, Clover Health, Catalyte, and Boom Supersonic. For more information, please visit: www.palmdrive.vc
About IGNIA
IGNIA is a venture capital firm that invests in high growth enterprises targeting the emerging middle class of Mexico. Founded in 2007, IGNIA has two funds with US$200 MM assets under management. IGNIA invests in sectors such as healthcare, fintech, financial services, education and basic services. For more information please visit: www.ignia.mxand @IGNIA_Fund
About InQlab
InQlab is a company builder and a seed investor firm from Colombia. Founded in 2013, InQlab has a portfolio of 8 companies in sectors such as media, e-commerce and marketplaces, healthcare, fitness and other services. For more information, please visit: www.inqlab.co
About Stella Maris Partners
Stella Maris Partners is a venture capital firm focused on investing in companies with great potential and a strong desire to create a real social impact in Mexico and Latin America. Education and healthcare are the main investment sectors. For more information please visit: www.stellamaris.mx and @StellaMarisFUND