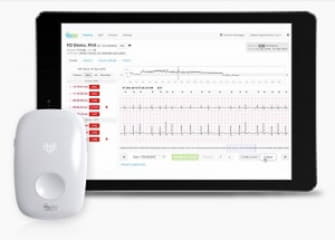 BOSTON--(BUSINESS WIRE)--InfoBionic, a digital health company focused on patient-monitoring solutions for chronic disease management, today announced the completion of a $50 million financing to support continued commercial expansion of its MoMe Kardia system for remote, wireless outpatient monitoring and diagnosis of cardiac arrhythmias. The financing round includes participation by Eagle Investments; Excel Venture Management; Safeguard Scientifics; Zaffre Investments, a subsidiary of Blue Cross Blue Shield of Massachusetts; and Blue Cross and Blue Shield of Kansas, Inc.
"We are pleased by the completion of the company's latest financing round which was based upon the strong market traction of our proprietary MoMe® Kardia system," said Stuart Long, InfoBionic Chief Executive Officer.
"Since this time last year, the MoMe® Kardia system month-to-month subscription growth rates have exceeded 35%", Long added. "Favorable marketplace developments, combined with our recently announced US distribution agreement for our system, should result in continued customer traction and strong growth."
The Company recently announced a commercial distribution partnership that is expected to further enhance the penetration of the MoMe® Kardia monitoring platform in the marketplace. The MoMe® Kardia remote cardiac monitoring platform, which was granted 501(k) clearance from the U.S. Food and Drug Administration in 2015, competes in an addressable U.S. market estimated at $1.4 billion.
About InfoBionic
InfoBionic is a digital health company focused on creating superior patient monitoring solutions for chronic disease management with an initial market focus on cardiac arrhythmias. InfoBionic's lead product, MoMe® Kardia, is the only remote cardiac arrhythmia detection and monitoring system that replicates in-hospital telemetry data, right in the office, by giving physicians 24/7 on-demand access to full disclosure Holter, Event, and MCT data via a HIPAA-compliant portal app. For more information, visit www.infobionic.com.