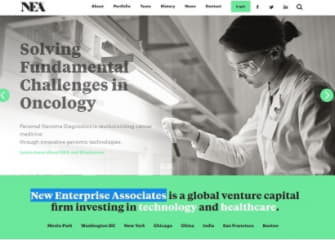 Reltio, the enterprise data-driven applications and modern data management Platform as a Service (PaaS) company, today announced that it has secured Series C funding in the amount of $40 million—a clear sign of investors' confidence in the company's momentum and strong business prospects. Reltio Cloud is the only multitenant PaaS that enables organizations to build data-driven applications with reliable master data management (MDM), relevant big data insights, and intelligent recommended actions.
The funding was led by global venture capital firm New Enterprise Associates (NEA), which has a strong track record of investing in enterprise technologies at the forefront of innovation, and visionary leaders building transformational organizations. New investor, Sapphire Ventures, which aims to help today's most innovative entrepreneurs and technology companies build global category-defining businesses, also joins this round. Existing investors Crosslink Capital and .406 Ventures also participated. The new funds will further boost Reltio's market momentum, and fuel engineering, sales, and marketing initiatives while enhancing the company's global footprint and leadership in modern data management.
"More than just financing, we bring to the table a full suite of services that are specifically designed to help expansion-stage companies scale and become global category leaders—and we believe Reltio is perfectly positioned to do just that," said Nino Marakovic, CEO and Managing Director of Sapphire Ventures. "We are excited to work with the Reltio team and look forward to bringing our global enterprise network, capital, resources and expertise to support the growth of its market-leading data management solutions."
Reltio is well positioned to build on its market momentum over the last 12 months including the addition of customers from leading organizations in a wide range of sectors such as technology, retail, media & entertainment, and insurance. New customers include a major car retailer, a large fast-food franchiser, one of the world's largest specialist insurers, a well-known cosmetics manufacturer, and a global media investment group. The company's innovation also led to continued success in the life sciences and healthcare arena—it achieved HITRUST CSF certification and signed three of the ten largest global pharmaceutical organizations, as well as one of the largest healthcare organizations in the U.S. as customers.
"I'm honored to have our modern data management Platform as a Service used as the foundation for digital transformation initiatives in some of the largest companies in the world," said Manish Sood, CEO of Reltio. "We are humbled by the continuing support of our existing investors, and are thrilled to welcome Sapphire Ventures. As ever, I'd like to thank our customers and partners for their confidence in us, and our employees who have been the force behind Reltio's success."
To capitalize on emerging opportunities growing across every industry, Reltio is hiring business and IT professionals in offices around the world and is set to increase headcount by 50+% in 2017 alone. The company recently announced that it has added a new office in Bengaluru, India, and brought aboard industry veteran Manish Jain as Vice President and General Manager for the region, where he will be responsible for overall India strategy and operations.
"Reltio has demonstrated impressive growth in the massive data management market," said Chetan Puttagunta, General Partner at NEA. "When the opportunity to deepen our commitment to the company arose, it was an easy decision—we invest in disruptive technologies with high market potential, and Reltio fits that description perfectly with a multi-faceted, agile platform that's designed for speed to value, and is loved by business users. Reltio Cloud is the real foundation for data-driven insight and action, and it is being delivered by a talented and driven team."
Since no technology, however innovative, can succeed in a vacuum, Reltio has continued to develop strategic partnerships that help ensure comprehensive market offerings. Recent partnerships include a global alliance with QuintilesIMS in life sciences, a partnership with Dun & Bradstreet to power the next generation of Account Relationship Management solutions, an enterprise integration partnership with SnapLogic, and solution and delivery partnerships with additional leading system integrators.
Reltio has been honored with many industry awards and media recognition over the last 12 months:

Reltio continues to deliver innovative new functionality with three major releases a year. The company recently announced the availability of Reltio Cloud 2017.1, which adds new integration, collaboration, and globalization capabilities at massive scale, with hundreds of terabytes of enterprise data, encompassing billions of multi-domain entities and relationships now under management. Reltio customers are issuing tens of millions of real-time API calls each day, delivering real-time operational execution and analytical insight to their teams accessing business critical information via browser-based and mobile interfaces.
More InformationWe'd love to help - sales@reltio.com
We'd love to partner - alliances@reltio.com
We'd love you to join us - careers@reltio.com
About Reltio
Reltio delivers reliable data, relevant insights and recommended actions so companies can be right faster. Reltio Cloud combines data-driven applications with modern data management for better planning, customer engagement and risk management. Reltio enables IT to streamline data management for a complete view across all sources and formats at scale, while sales, marketing, and compliance teams use data-driven applications to predict, collaborate and respond to opportunities in real-time. Companies of all sizes, including leading Fortune 500 companies in healthcare and life sciences, media & entertainment, hospitality, distribution and retail rely on Reltio. For more information visit www.reltio.com.