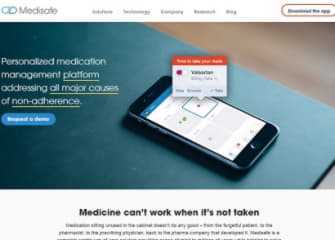 Medisafe®, the leading personalized medication management platform with over three and a half million patient and caregiver registered users, announced today that it has raised a $14.5M Series B funding round led by Octopus Ventures, and joined by M Ventures, to support the company's rapid growth and global expansion. Other investors participating from previous rounds include Pitango Venture Capital, 7wire ventures, lool Ventures, TriVentures, Qualcomm Ventures and Eyal Gura.
Medisafe is focused on helping hundreds of millions of people worldwide to take their medications as prescribed, solving the problem known as medication non-adherence. Non-adherence is one of the most dire issues and complex behavioral challenges in healthcare that, in the U.S. and Europe alone, is estimated to cause a death every four minutes, and places a burden to health systems estimated at a combined $500 billion annually. Moreover, pharmaceutical companies globally lose an estimated $637 billion each year due to medication non-adherence, bringing total costs to well over $1 trillion.
Medisafe has shown through published research that its users have significantly higher medication adherence than people not using its platform. In related studies, comparable increases in adherence have demonstrated a direct link to improved health outcomes across a wide variety of therapeutic areas, using measures such as hospitalization risk and total medical cost. This evidence has led private and government-sponsored medical insurers – Centers for Medicare and Medicaid Services (CMS) in the U.S, National Health Services (NHS) in the UK – to adopt quality measures to improve medication adherence.
Medisafe will use funds from this latest round of financing to grow its sales and marketing teams, expand the platform's capabilities, as well as open an office in London to better service its European partners and capitalize on growing demand. Interest in Medisafe from the U.S. and European markets has been particularly strong since last October when Medisafe announced the expansion of its offering for pharmaceutical and life sciences companies.
Omri Shor, CEO and co-founder of Medisafe, said: "We are excited to welcome Octopus Ventures and M Ventures who believe in and support our mission of improving people's health, while producing measurable outcomes for our partners across the healthcare continuum, from pharma companies, to insurers and providers. We will use the new capital to hire the best talent, enhance the platform's capabilities, and achieve our ambitious expansion goals globally."
Eyal Rabinovich of Octopus Ventures, commented: "At Octopus Ventures, we're committed to backing unusually talented teams, obsessed with driving innovation within their industry and building global businesses. With Medisafe's application of mobile, internet and big data to the global healthcare issue of medication non-adherence there is an opportunity to revolutionize the healthcare industry, reduce waste and the financial burden that comes with it, and improve lives."
Edward Kliphuis, Investment Director of the New Businesses fund at M Ventures (Merck Ventures BV, Amsterdam, The Netherlands, a subsidiary of Merck KGaA, Darmstadt, Germany (known as M Ventures in the United States and Canada), said: "M Ventures invests globally in transformational ideas driven by great entrepreneurs. Technology enabled healthcare with the goal to improve patient outcomes is a key area of focus for us. We believe that Medisafe is perfectly positioned to address the issue of medication non-adherence through its technology platform, and ultimately improve patient outcomes by doing so."
About Medisafe
Medisafe is the personalized medication management platform addressing all major causes of non-adherence. Medisafe's cloud-based mobile platform personalizes content, resources and interventions — such as educational videos, coupons and motivational messages — based on each user's regimen, condition and specific circumstance. Medisafe fosters collaboration between patients, their loved ones and healthcare professionals through caregiver tools and reports, and helps the care continuum improve health outcomes and sustain quality care initiatives. Medisafe's three and a half million patient and caregiver users who have recorded over 500 million successful medication doses on their iOS and Android smartphones and tablets and contributed 140,000 user reviews that average 4.5 out of 5 stars in the App Store and Google Play app stores.
MEDIA CONTACTLindsey Diaz-MacInnis, Racepoint Global
Tel: (617) 624-3484
E: Medisafe@racepointglobal.com
About Octopus Ventures
Octopus Ventures is a London and New York based venture capital firm, focused on identifying unusually talented entrepreneurs. In recent years we have been fortunate to back the founding teams of over 60 companies, including Conversocial, graze.com, LoveFiLM, Property Partner, Secret Escapes, Sofar Sounds, Swiftkey, Swoon Editions, Uniplaces, tails.com, Zoopla Property Group and Zynstra.
We can invest from £250,000 to £25 million in a first round of funding and will look to follow in subsequent rounds. We are proud to be known as one of the most entrepreneur friendly investors in Europe and a significant part of our portfolio consists of referrals from teams we have already invested in or serial entrepreneurs who we have previously backed.
Octopus Ventures is part of the Octopus group. Octopus is a fast-growing UK fund management business with leading positions in several specialist sectors including property finance, healthcare, energy and smaller company investing. Founded in 2000, Octopus manages more than £6 billion of funds on behalf of 50,000 investors.
MEDIA CONTACT
Richard Savage, FieldHouse Associates
Tel: +44(0) 790 334 7657
E: richard@fieldhouseassociates.com
About Merck Ventures BV (known as M Ventures in the United States and Canada)
Based in Amsterdam, The Netherlands, and a subsidiary of Merck KGaA, Darmstadt, Germany, Merck Ventures is the strategic, corporate venture capital arm of Merck KGaA, Darmstadt, Germany. Its mandate is to invest in innovative technologies and products with the potential to significantly impact Merck KGaA, Darmstadt, Germany's core business areas.
From our headquarters in Amsterdam and offices in the US and Israel we invest globally in transformational ideas driven by great entrepreneurs. M Ventures takes an active role in its portfolio companies and teams up with entrepreneurs and co-investors to translate innovation towards commercial success.