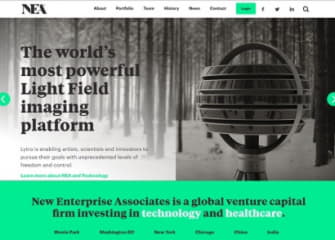 Reltio, the enterprise data-driven applications and modern data management Platform as a Service (PaaS) company, announced today that it has raised $22M in Series B funding. Leading the oversubscribed round is one of the world's largest and most successful VC firms, New Enterprise Associates (NEA). Existing investors, Crosslink Capital and .406 Ventures added to their $10M Series A investment, bringing Reltio's total venture funding to $32M to date. The new financing will be used to extend Reltio's leadership position in modern data management through accelerated hiring of talented individuals across all groups, and continued expansion into global markets.
Chetan Puttagunta, partner at NEA joins Jim Feuille, general partner, Crosslink Capital, and Reltio CEO and founder Manish Sood, on Reltio's board of directors.
"Reltio's growth in the multi-billion dollar data management market has been truly impressive," said Chetan Puttagunta, Partner at NEA. "NEA looks to invest in disruptive technologies with large market potential and Reltio has solved an age old conundrum by bringing IT and business teams together, on a multifaceted, agile platform designed for CIOs, powering data-driven applications loved by business users. We're particularly excited to join a team that is so passionate about guaranteeing reliable data, as it's undeniably the foundation for data-driven insight and action."
Jim Feuille, general partner at Crosslink Capital, who saw Reltio's potential early, remarked: "Reltio is changing the enterprise software landscape with customers and partners gaining first-mover advantage by managing of all types of data at scale, while accelerating business time-to-value. We invested in Reltio's vision to marry cloud master data management, big data transactions and interactions, predictive analytics and machine learning, to ultimately enable the next wave of data-driven applications, and Reltio continues to deliver the innovation normally associated with multiple startups."
Graham Brooks, partner, .406 Ventures, an existing investor who also participated in the round, commented: "In a short space of time, Reltio's experienced and dedicated team have exceeded our expectations. In addition to streamlined execution, we've been most impressed with how quickly the company has become a force in the industry. Few companies are able to so quickly disrupt and rise to a leadership position in the established and new product categories. We couldn't be more excited about Reltio's prospects."
Within the last few months, Reltio was named a leader, and attained the highest score in the strategy category in "The Forrester Wave™: Master Data Management, Q1 2016" -- a rare honor for a new entry into the market to be cited as a leader in this comprehensive study among long-established industry players. Reltio also received the highest score possible in relation to the business value and context criteria in the same report. IDC, too, named Reltio an innovator in its "IDC Innovators: Platform as a Service, 2016" report, which recognizes the most ground-breaking products. A selection of additional leading analyst firms and industry experts who have published independent reports highlighting Reltio's capabilities and value proposition include Constellation Research, Ovum, 451 Research and Bloor Research.
In just the first half of 2016, Reltio has added leading companies in high tech, retail, media & entertainment and insurance as customers; including a major car retailer, a large fast food franchiser, one of the world's largest specialist insurers and a global media investment group. Reltio's momentum in healthcare & life sciences also continues with the signing of three of the top ten global pharmaceutical organizations, and an alliance with IMS Health to power IMS Health's flagship IMS One Platform.
Over 30 companies are now part of the Reltio Connect partner program. Reltio has worked closely with all partners, resulting in significant joint successes. With unlimited mutual opportunities, Reltio plans to form more alliances across all partner categories and industries including:
Powered by Reltio - enabling ISVs and services partners to create and deploy unique data-driven applications and solutions leveraging the Reltio Cloud platform;
Delivered by Reltio - providing third party data providers a new channel in which to sell their data, by making it accessible directly through Reltio data-driven applications; and
Integrated with Reltio - giving technology providers a channel to offer Reltio customers their solutions through seamless integration with Reltio Cloud.
"We were fortunate enough to receive multiple indications of interest in our funding round, and are very excited to have NEA join our team of supportive investors," said Manish Sood, CEO of Reltio. "Over the last 12 months, our modern data management Platform as a Service has been validated by customers and partners as they execute on a wide range of initiatives, including better customer experience, digital transformation, M&A, commercial excellence and compliance, to name a few. However, our success comes down to the innovation and hard work of Reltio's employees. I would like to extend my heartfelt thanks to them, and invite those who are interested to join us in what continues to be a rewarding and fun journey."
About Reltio
Reltio delivers reliable data, relevant insights and recommended actions so companies can be right faster. Reltio Cloud combines data-driven applications with modern data management for better planning, customer engagement and risk management. Reltio enables IT to streamline data management for a complete view across all sources and formats at scale, while sales, marketing and compliance teams use data-driven applications to predict, collaborate and respond to opportunities in real-time. Companies of all sizes, including leading Fortune 500 companies in healthcare and life sciences, media & entertainment, hospitality, distribution and retail rely on Reltio. For more information visit www.reltio.com.
About NEA
New Enterprise Associates, Inc. (NEA) is a global venture capital firm focused on helping entrepreneurs build transformational businesses across multiple stages, sectors and geographies. With nearly $17 billion in cumulative committed capital since the firm's founding in 1977, NEA invests in technology and healthcare companies at all stages in a company's lifecycle, from seed stage through IPO. The firm's long track record of successful investing includes more than 200 portfolio company IPOs and more than 320 acquisitions since its founding in 1977. In the U.S., NEA has offices in Menlo Park, CA; Boston, MA; New York, NY;Chicago, IL; and the Washington, D.C. metropolitan area. In addition, New Enterprise Associates (India) Pvt. Ltd. has offices inBangalore and Mumbai, India and New Enterprise Associates (Beijing), Ltd. has offices in Beijing and Shanghai, China. For additional information, visit www.nea.com.