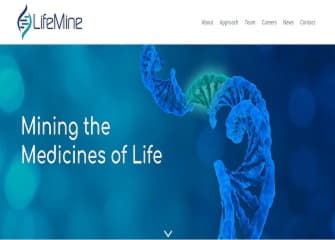 CAMBRIDGE, Mass.--(BUSINESS WIRE)--LifeMine Therapeutics Inc., a biopharmaceutical company reinventing drug discovery by mining fungal biodiversity to develop mechanistically and structurally novel therapeutics, today announced a $50 million Series B financing from leading life sciences investors. The financing was led by Rick Klausner and Milky Way Investments, with participation from existing investors GV (formerly Google Ventures), WuXi Healthcare Ventures, Foresite Capital, Arch Ventures, Blue Pool Capital, and MRL Ventures Fund. Proceeds from the Series B financing will allow the Company to accelerate and expand its drug discovery efforts, as well as strategically advance select pipeline programs toward clinical development.
LifeMine's drug discovery platform horizontally integrates diverse advanced technologies and disciplines including high-throughput microbiology and multi-omics technologies, advanced data science and deep learning, synthetic biology, as well as human disease biology and precision structural engineering of architecturally complex organic molecules, to rapidly discover novel small molecule therapies via interrogation of the fungal biosphere. Given their evolutionary proximity to humans, fungi have been an important source of radically impactful medicines, but unearthing these molecules has heretofore proven frustratingly difficult. LifeMine's discovery paradigm for the first time brings predictability, speed and scalability to natural product discovery by performing a digital search through biological space for chemical matter™.
Whereas traditional natural product discovery has centered on sifting through complex mixtures comprising hundreds of thousands of molecules to discover vanishingly small quantities of a bioactive molecule, LifeMine's search algorithm zeroes in on the genes encoding natural products based on their computationally predicted human target. As a diverse gene pool from which to draw upon, LifeMine has amassed a fully curated fungal genome repository of unprecedented scale. Having fully deployed its discovery engine, LifeMine has identified a growing pipeline of novel, potentially high-impact drug candidates, with an initial focus on highly impactful precision medicines in oncology and immune modulation.
"LifeMine is poised to catapult drug discovery into the future by intersecting a billion years of evolutionary biology on planet earth with advanced data science and engineering technologies developed in only the last few handful of years," said Gregory Verdine, Ph.D., co-founder, chief executive officer and chief scientific officer of LifeMine. "We were founded on the core scientific principles that evolutionary forces are the greatest drivers of innovation in drug discovery, and that fungi are the master builders of mechanistically and structurally novel drugs. Over the past three years, our team, board and investors have mounted an expedition through the uncharted territories of genomic drug discovery in fungi, and we have found these territories to possess virtually limitless potential. Our aim is not to bring one or two niche medicines to market; our vision is to shake the field of drug discovery to its very foundations and create a new way of discovering drugs having unsurpassed speed and scalability."
"LifeMine's approach is unprecedented in small molecule drug discovery," said Richard Klausner, M.D., lead investor, co-founder, and chairman of the board of LifeMine. "The Company's scientific know-how, platform, skilled team and strategic optionality associated with rapid drug discovery against high-value therapeutic targets across many disease areas together represent a compelling and unique opportunity. I look forward to continuing to support the Company's efforts and working with its talented management team and board as it enters its next stage of growth."
With the completion of the Series B financing, LifeMine has now raised more than $120 million from leading life science investors since the Company's founding in 2017.
Dr. Verdine continued, "We have made significant progress since our inception a few short years ago including amassing one of the largest fully digitized, genomicized proprietary fungal strain collections in the world, and in short order these fungi have provided a source for a rapidly growing pipeline of novel drug candidates in oncology, T cell mediated immune disorders and other therapeutic areas having high unmet medical need. Now a 100 person-strong organization, we are continuing to build out our product pipeline, our capabilities and capacity, and our phenomenal team across all levels, and we are driving forward with a full head of steam into this exciting next chapter of our epic expedition."
Expansion of Proprietary Fungal Strain Collection (LifeBank™)
LifeMine is pleased to report the assembly of one of the largest fungal strain collections in existence. This strain repository, called LifeBank™, comprises over 100,000 diverse, living fungal strains collected across the globe by leading pharmaceutical companies, including the entire collections of Merck, Schering, Pfizer, Wyeth, Lederle, and others. A significant fraction of the genomes of these organisms have been fully sequenced, assembled and annotated to create the largest genome queryable database – called LifeBase™ – of diverse wild-type fungi in existence today.
In addition to these legacy sources, the Company has brought on stream a state-of-the-art facility on Gloucester Harbor, MA, and there is assembling a proprietary marine fungal strain collection from diverse ecosystems obtained through collection expeditions under local, state and federal permits.
Appointment of Nobel Laureate William G. Kaelin Jr., M.D., to Board of Directors
LifeMine announced earlier today the appointment of William G. Kaelin Jr., M.D., to its board of directors. Dr. Kaelin is the Sidney Farber Professor in the Department of Medicine at the Dana-Farber Cancer Institute and at the Brigham and Women's Hospital at Harvard Medical School, as well as a Howard Hughes Medical Institute investigator. In 2019, Kaelin won the Nobel Prize in Physiology or Medicine for his work in understanding how cells sense and adapt to changes in oxygen. Dr. Kaelin is also an accomplished life science entrepreneur, having served as a scientific co-founder of Tango Therapeutics and Cedilla Therapeutics. He also currently serves on board of directors of Eli Lilly and Company.
About LifeMine Therapeutics
LifeMine Therapeutics is reinventing drug discovery by mining fungal biodiversity to develop mechanistically and structurally novel therapeutics to address previously intractable therapeutic challenges. LifeMine's drug discovery engine enables large-scale genomic search and retrieval of small molecule drug candidates that have a highly specific function. Through its discovery engine and proprietary fungal strain collections, LifeMine has discovered, in genomic space, hundreds of potentially high-impact drug candidates relevant to targets across all major disease areas, and has an initial focus on highly impactful precision medicines in oncology and immune modulation. The Company was founded in 2017 by renowned entrepreneur/scientists Gregory Verdine, Ph.D. and Richard Klausner, M.D., and entrepreneur/company-builder WeiQing Zhou, M.B.A. Headquartered in Cambridge, MA, and with a second site at Gloucester Harbor, MA, LifeMine has raised more than $120 million from leading life science investors. For additional information, please visit www.lifeminetx.com.