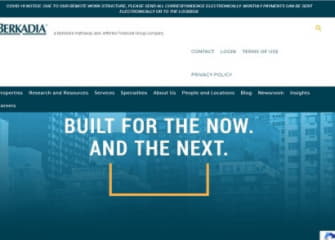 Denver-based private equity firm FrontRange invested $50M to bolster Monday Properties' growth in core and emerging markets
Berkadia today announced that it has arranged a strategic partnership between Monday Properties, an owner, operator, and industry-leading developer of commercial and residential real estate in highly targeted, supply constrained markets, and private equity firm FrontRange Capital Partners LLC of Denver, Colorado.
Berkadia's Joint Venture Equity and Structured Capital Group, led by Chinmay Bhatt, Noam Franklin and Cody Kirkpatrick, arranged a $50 million growth capital investment from FrontRange. The partnership is the latest in a series of moves by Monday Properties to accelerate growth in the company's current core markets, while also fueling investments in high-quality projects in emerging submarkets.
"Despite a challenging environment, we continue to see a wide range of investment opportunities that fit into our overall, forward-looking business platform. Following our recent Shirlington Tower acquisition in Northern Virginia, as well as the construction and opening of several multifamily projects, we remain in growth mode," said Adam Carr, Senior Vice President of Acquisitions and Investment Management at Monday Properties. "The infusion of capital through this new partnership with FrontRange positions our venture to execute on deals efficiently as opportunities present themselves."
"We are excited to partner with Monday Properties, whose demonstrated investment and management acumen over the past 20 years has produced a successful, long-term track record," said David Robertson, CEO of FrontRange Capital Partners. "Our partnership was facilitated by our shared view of the significant growth potential that exists in Monday's target markets, and the management team's proven ability to identify and execute on compelling acquisition and development opportunities. We look forward to being a part of this next phase of growth for the company."
About Monday Properties:
Monday Properties is a vertically-integrated real estate investment firm that owns, operates, develops, and invests in a dynamic portfolio of mixed-use properties. Monday Properties delivers unique commercial and residential investment offerings that transform communities and focus on connectivity. The company has a comprehensive strategy in place based on high-growth markets and opportunistic investments. Since 2002, the firm has completed over 70 property transactions representing $14 billion in capital value and 30 million square feet. For more information on Monday Properties, please visit mondayre.com.
About FrontRange Capital Partners:
FrontRange Capital Partners is a private equity firm focused on investments in real estate and high growth real estate businesses. Founded in 2010, FrontRange invests capital on behalf of institutions, family offices and high net worth individuals. The firm seeks to generate superior risk-adjusted returns and capital preservation by investing in assets and companies that provide upside through current income and growth, as well as downside protection through structuring and underlying asset value.
About Berkadia®:
Berkadia, a joint venture of Berkshire Hathaway and Jefferies Financial Group, is a leader in the commercial real estate industry, offering a robust suite of services to our multifamily and commercial property clients. Through our integrated mortgage banking, investment sales and servicing platform, Berkadia delivers comprehensive real estate solutions for the entire life cycle of our clients' assets. To learn more about Berkadia, please visit www.berkadia.com.