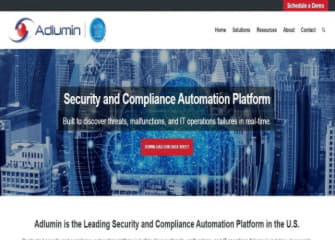 WASHINGTON--(BUSINESS WIRE)--Earlier this month, Adlumin announced a $6 million Series A round of funding led by Leawood Venture Capital and various other institutional sources including The Independent Community Bankers of America (ICBA).
Adlumin is the leading security and compliance automation platform in the financial sector for institutions between $100 million to $25 billion in assets. Adlumin continues to grow in the industry providing a mission critical product to financial institutions and the firms that provide information technology, security and compliance services.
This Series A funding expands on the remarkable few years that Adlumin has had in building and expanding its product to financial institutions around the country. This critical funding will accelerate Adlumin's expansion of its Abakis platform designed for the myriad of service providers demanding an edge in the financial services market.
"We are so happy to support Adlumin in their first round of Series A funding," says Karl Gemperli, founding partner at Leawood Venture Capital. "As proud investors of the company, we have had a front row seat to Adlumin's growth and expansion within the financial sector. Adlumin's world-class analytics, features and capabilities are among the short list of the potential it has to dominate the industry. We can't wait to see what new heights the company will reach in the upcoming years."
Over the last few years, Adlumin has built a high-quality product and viable business model by catering to the unique needs of community banks. As part of this effort, Adlumin participated in the ICBA ThinkTECH Accelerator program, designed to foster community bank-fintech partnerships. Adlumin was later selected as an ICBA Preferred Service Provider, further enhancing its visibility in the community banking space and helping to propel the company forward.
"We continue to be impressed with Adlumin's approach to security management and their efforts to create a tailored solution that addresses the compliance considerations and requirements of community banks," Senior Executive Vice President of Community Bank Solutions Kevin Tweddle said. "We're pleased to support the company with this additional capital investment and look forward to following their innovation journey."
As a true testament of its overall growth, Adlumin was awarded a multimillion-dollar F-35 fighter jet contract with the U.S. Air Force. The company has also built into its platform, a 24/7 SOC service, the Adlumin Threat Intelligence Portal (ATIP), enriched compliance reporting to include the FFIEC CAT and NCUA ACET and patented software specifically designed to keep core banking systems protected from threats, malfunctions and IT operations failures.
"I would like to extend our greatest thanks and appreciation to all of our investors for supporting and recognizing the impact of our platform," says Adlumin CEO Robert Johnston. "Through their overall support and funding, Adlumin is able to continue trailblazing our own path within the financial industry and offering our customers quality analytics and security. We look forward to executing our vision and revolutionizing the way corporations secure sensitive data."
Adlumin will continue to deliver a superior product to financial institutions and service providers. The company looks forward to advancing its patented core banking security technology, unlimited data scalability using a cloud application and compliance solutions-- meeting industry requirements. This funding round will leave a lasting impact on the legacy of Adlumin and will create more opportunities for the company to build its brand and powerful product.
About Adlumin
Adlumin Inc. is a patented security and compliance automation platform for the financial sector. The Adlumin team has a passion for technology and solving the most difficult problems through the targeted application of data science and compliance integration. Our mission is to "add luminosity" or visibility to every customer's network processes through real-time threat detection, analysis, and response to ensure sensitive data remains secure.