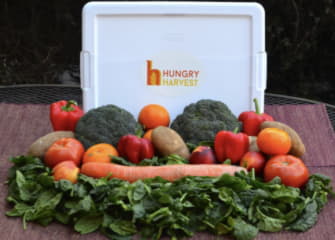 Food rescue startup Hungry Harvest has closed its Series A round at $13.7 million, according to a company press release. The round was led by Creadev with participation from Danone Manifesto Ventures, Quadia, and Maywic Select Investments.
Hungry Harvest is one of several companies out there rescuing "ugly" produce and other staples from groceries in an effort to curb food waste and redistribute food to those in need. The company collects fruits, vegetables, and other items deemed cosmetically unfit for mainstream retailers and packs them into variety boxes customers can order and have delivered to their doorsteps. Users can customize their boxes based on how often they cook, how many people they are feeding, and whether they prefer organic produce or will eat anything. Boxes range in price from $15 for a "Mini Harvest" all the way up to $42 for a "Super Organic Harvest."
The company also donates to local organizations fighting food insecurity in the U.S. Hungry Harvest says it plans to use the new funds to improve the customer experience for its products and scale its social mission of getting affordable food to those in need.
The concept of rescuing ugly produce from landfills has steadily grown in popularity over the last couple years as the world's multibillion-dollar food waste problem becomes more top of mind for more consumers. Those consumers now have ample options when it comes to purchasing cheaper produce that would get tossed at a grocery store, including Karma, Imperfect Produce, and Misfits Market. Some of these companies are actually partnering with grocery stores, as Flashfood is doing with Meijer stores in Detroit.
For it's part, Hungry Harvest currently delivers to Baltimore, D.C., Philadelphia, Charlotte, Raleigh, Miami and Detroit.