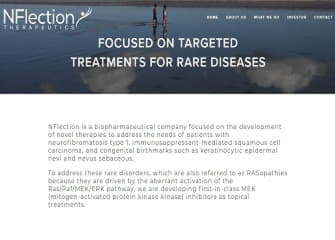 NFlection Therapeutics, Inc., a biopharma therapeutics developer dedicated to targeting disease pathways to uncover new approaches to fighting rare disease, today announced the closing of a $20 million Series A financing round with investment from venBio Partners and F-Prime Capital. The company also announced the initiation of the first clinical trial of its lead product, NFX-179 Gel, a topically applied therapy.
The Phase 2a study, on the heels of the successful submission of their Investigational New Drug Application with the U.S. Food and Drug Administration, will be a safety, tolerability and pharmacokinetic/pharmacodynamic study of NFX-179 Gel in adult patients with cutaneous neurofibromatosis type-1 (NF-1). This study will evaluate three concentrations of NFX-179 Gel compared with its vehicle (placebo) in a randomized, double-blind, placebo-controlled, clinical trial of 48 patients with cutaneous neurofibromatosis type-1. The study will be conducted at five investigational centers across the United States.
"This study allows us to determine the drug's ability to suppress key biomarkers involved in the progression of neurofibromas and will aid in the selection of doses for a larger Phase 2b study," said Christopher Powala, president & chief executive officer of NFlection. "There are no FDA-approved products for this condition, and NFX-179 Gel has the potential to address this unmet medical need."
"Almost all adults with neurofibromatosis type-1 develop cutaneous nerve tumors during their lifetime. The tumors form under the skin and manifest as nodules that can be stigmatizing and even painful," said Annette Bakker, Ph.D., President, Children's Tumor Foundation. "We are pleased that NFlection has recognized the unmet need posed by cutaneous neurofibromas, and we are encouraged that topical NFX-179 may hopefully soon provide a life-changing solution for thousands of NF-1 patients."
About Cutaneous Neurofibromatosis Type-1
Cutaneous neurofibromas are tumors that grow from small nerves in the skin or just under the skin and appear as small or larger bumps, typically beginning around the time of puberty. It is less common to see this type of neurofibroma in young children with NF1. Individuals with NF1 commonly develop more cutaneous neurofibromas as they get older. They do not become malignant, but they may be disfiguring, itchy or painful when bumped. Despite their benign nature, cutaneous neurofibromas may cause significant problems, such as depression and a sense of isolation, and may require surgical removal.
About NFlection Therapeutics, Inc.
NFlection Therapeutics focuses on the discovery and development of effective, targeted therapies for rare disorders. NFlection is chiefly concerned with rare disorders known as RASopathies that are driven by the aberrant activation of the Ras/Raf/MEK/ERK pathway. NFlection is working to address RASopathies through the development of first-in-class soft MEK (mitogen-activated protein kinase kinase) inhibitors as topical treatments to mitigate or treat cutaneous neurofibromas in neurofibromatosis type 1, congenital birthmarks and immunosuppressant-mediated squamous cell carcinoma. NFlection's topical MEK inhibitors are designed to degrade rapidly in circulation to avoid systemic side effects. To learn more about the company, please visit www.nflectionrx.com.
About venBio Partnersven
Bio Partners is a life sciences investment firm that partners with industry leaders to build innovative medicines and technologies, with a focus on novel therapeutics for unmet medical needs. For more information, please visit venbio.com.
About F-Prime Capital
F-Prime Capital is a global venture capital firm investing in healthcare and technology. For the past 50 years, our independent venture capital group has had the privilege of backing great entrepreneurs building groundbreaking companies. With over two billion dollars under management and a global portfolio of more than 190 companies, we champion those dedicated to creating positive change in the world. For more information, please visit www.fprimecapital.com and follow us on Twitter and LinkedIn.
About Children's Tumor Foundation
The Children's Tumor Foundation is a 501(c)(3) not-for-profit organization dedicated to finding effective treatments for the millions of people worldwide living with neurofibromatosis (NF), a term for three distinct disorders: NF1, NF2, and schwannomatosis. NF causes tumors to grow on nerves throughout the body and may lead to blindness, deafness, bone abnormalities, disfigurement, learning disabilities, disabling pain, and cancer. NF affects 1 in every 3,000 births across all populations equally. There is one approved drug for the treatment of inoperable plexiform neurofibromas — a subset of the NF1 patients. The Children's Tumor Foundation's mission of driving research, expanding knowledge, and advancing care for the NF community fosters our vision of one day ending all manifestations of NF. For more information, please visit www.ctf.org.