Four dividend-paying investment to buy include an exchange-traded fund (ETF) favored by O'Shares that is recommended by its Chairman Kevin O'Leary, who probably is best known as one of the panelists on the "Shark Tank" television program.
O'Shares FTSE U.S. Quality Dividend ETF (OUSA), the fund O'Leary discussed in a recent video conference with ETF Trends, is designed to track the results of publicly traded, large- and medium-capitalization, dividend-paying issuers in the United States that meet size, liquidity, quality, low volatility and dividend-yield thresholds. The other three of the four dividend-paying investments to buy include an aerospace and defense company that appears on the rise again, a consumer products stock and a dividend-paying infrastructure fund that should climb as the economy rebuilds amid the ongoing COVID-19 recovery.
Dividend-paying ETFs that track indexes require caution as many of the stocks they hold struggle to sustain their payouts as their coverage ratios are weakening, O'Shares Chief Executive Officer Connor O'Brien said. In contrast, OUSA is an ETF that features large-cap, "high-quality companies" that pay dividends reliably, he added.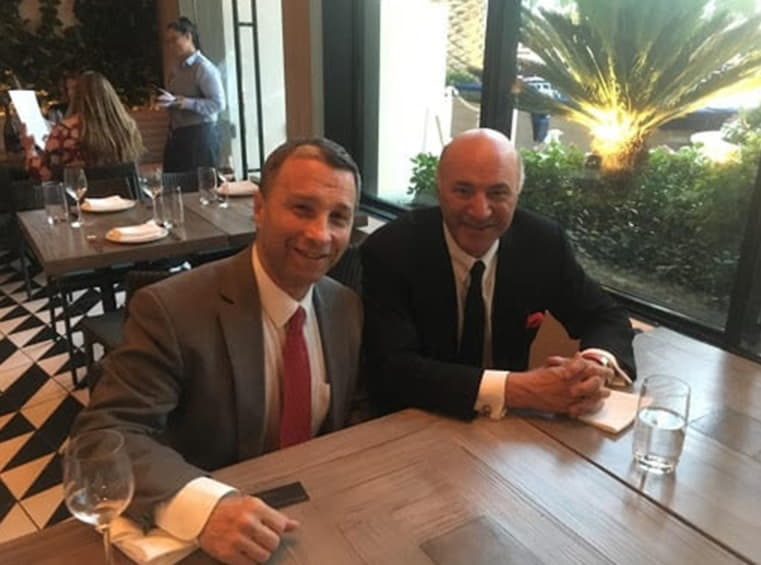 Paul Dykewicz meets with Kevin O'Leary for an interview before COVID-19 social distancing.
A key advantage with OUSA it that it holds companies that have pricing power and sustainable cash flows if inflation hits, O'Leary said.
"They're very high-quality companies in every sector that are able to increase prices in the case of inflation," O'Leary said. "Everybody should be thinking about that when you put that $5 trillion [in emergency federal funding] to work and helicopter it in. Twenty or 30 months from now, will inflation show up, and if it does, you don't want to be in long-duration assets like utilities, like REITs."
OUSA's share price closed on $33.10 on May 29, when it traded at a 1-cent discount to its net asset value of $33.11. The fund offers a current yield of 2.71% and has a 52-week trading range of $24.50 to $37.54.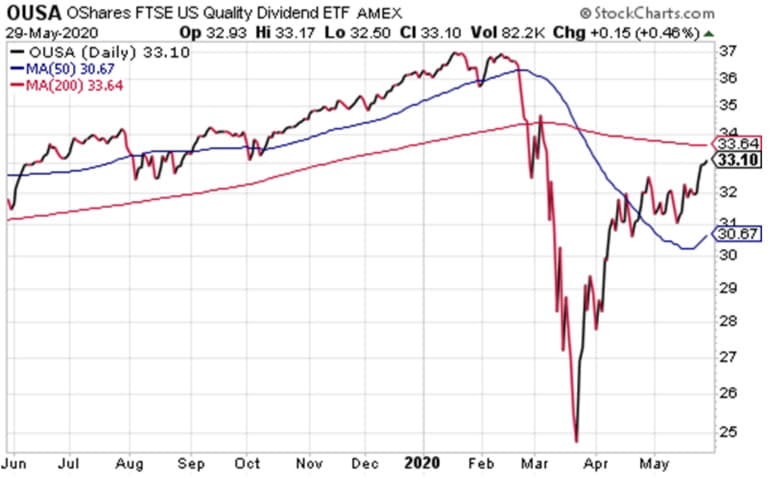 Chart Courtesy of www.StockCharts.com
Hilary Kramer, host of a national radio program called "Millionaire Maker" and head of the Value Authority and GameChangers advisory services, observed OUSA seems to have limited its exposure to financial stocks, since they account for just 2% of its portfolio. The move has aided the fund's performance so far in 2020, she added.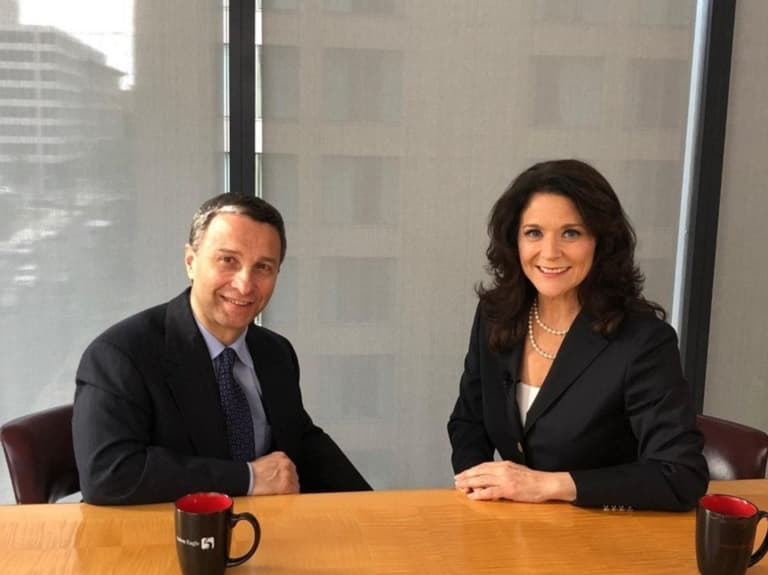 Columnist and Author Paul Dykewicz interviews money manager Hilary Kramer, whose premium advisory services include 2-Day Trader, Turbo Trader,High Octane Trader and Inner Circle.
Columnist and Author Paul Dykewicz interviews money manager Hilary Kramer, whose premium advisory services include 2-Day Trader, Turbo Trader,High Octane Trader and Inner Circle.
However, Kramer said she recommends stocks in her Value Authority service that pay a good dividend, such as Unilever (NYSE:UN), a company that offers products in beauty and personal care, home care and food and beverages, along with a 3.5% dividend yield.
Bob Carlson, chairman of the Board of Trustees of Virginia's Fairfax County Employees' Retirement System with more than $4 billion in assets, said long-term dividend investors should devote a portion of their portfolio to infrastructure companies, such as utilities, tower companies, data storage and others.
"These companies tend to have reliable cash flows that increase over time, and their payouts increase over time," said Carlson, who also leads the Retirement Watch advisory service.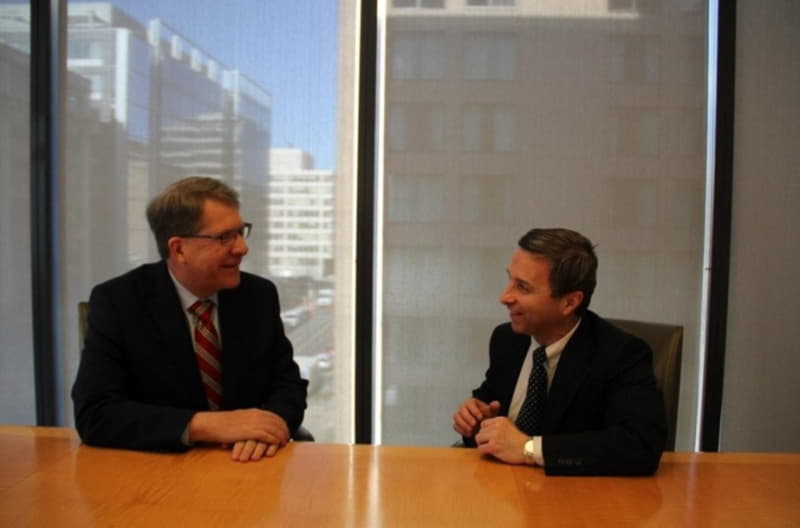 Pension fund Chairman Bob Carlson answers questions from Paul Dykewicz during an interview before social distancing became the norm after the outbreak of COVID-19.
Bryan Perry, editor of the high dividend-focused Cash Machine service, said a review of the top 10 holdings for OUSA indicates they only occupy 37.45% of its total assets, revealing the ETF is well-diversified.
"The two top spots, Johnson & Johnson and Apple Inc. are terrific market leaders," Perry said.
His favorites within the top holdings are Home Depot (NYSE:HD) and Intel Corp. (NASDAQ:INTC).
Income investors who want to avoid stocks and funds struggling to sustain their payouts during the COVID-19 economic fallout may find these four dividend-paying investments well worth considering.
To read the rest of Paul's investment dividend column, please click here.
Paul Dykewicz, www.pauldykewicz.com, is an accomplished, award-winning journalist who has written for Dow Jones, the Wall Street Journal, Investor's Business Daily, USA Today, the Journal of Commerce,Seeking Alpha, GuruFocus and other publications and websites. Paul, who can be followed on Twitter @PaulDykewicz, is the editor of StockInvestor.com and DividendInvestor.com, a writer for both websites and a columnist. He further is editorial director of Eagle Financial Publications in Washington, D.C., where he edits monthly investment newsletters, time-sensitive trading alerts, free e-letters and other investment reports. Paul previously served as business editor of Baltimore's Daily Record newspaper. Paul also is the author of an inspirational book, "Holy Smokes! Golden Guidance from Notre Dame's Championship Chaplain," with a foreword by former national championship-winning football coach Lou Holtz. The book is endorsed by Joe Montana, Joe Theismann, Ara Paseghian, "Rocket" Ismail, Reggie Brooks, Dick Vitale and many others.