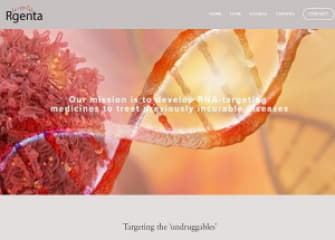 Rgenta Therapeutics, a new biotechnology company focusing on developing RNA-targeting medicines for historically undruggable disease-relevant targets, announced today that it closed a $20 Million seed investment, co-led by Boehringer Ingelheim Venture Fund and Matrix Partners China. Rounding out the series seed syndicate are two additional investors, Kaitai Capital and Legend Star Fund. The company has assembled a world-class team of small-molecule drug developers and an exceptional Scientific Advisory Board in the fields of genomics and RNA biology.
"We are delighted to have an outstanding syndicate of investors in this seed round," said Dr. Simon Xi, co-founder and CEO of Rgenta. "With their support, we will be able to rapidly advance our lead RNA-targeting programs into preclinical studies and expand our portfolio to pursue high-value RNA targets in a range of therapeutic areas."
"Rgenta's RNA-targeting platform delivers an innovative approach that gives us access to historically undruggable, highly disease-relevant targets," said Dr. Travis Wager, co-founder and CSO of Rgenta. "The key to our platform's success is that we can analyze massive amounts of genomics data and identify regulatory sites in RNAs amenable for potent and selective modulation by small molecules. Our unique discovery engine can rapidly screen for drug-like small molecules to target RNAs and thereby regulate protein production or alter protein function."
Rgenta builds on the groundbreaking work of its scientific co-founder, Dr. Zhiping Weng, an endowed professor at the University of Massachusetts Medical School in Worcester, Mass., who has decades of experience studying gene regulation and RNA biology and co-leads the data analysis centers of the ENCODE and psychENCODE consortia. The Rgenta scientific advisory board includes: Dr. Phillip Zamore, Chair of RNA Therapeutics Institute and Gretchen Stone Cook Professor of Biomedical Sciences at the University of Massachusetts Medical School and a co-founder of two biotechnology companies, Alnylam Pharmaceuticals and Voyager Therapeutics; Dr. Charles DeLisi, Metcalf Professor of Science and Engineering at Boston University, a transformative visionary, widely recognized as the father of the human genome project; and Dr. Friedrich Metzger, CEO of Versameb AG and previously Head of Roche Discovery Rare Diseases, and a leader of the discovery of Risdiplam, a small molecule RNA splicing modifier for treatment of spinal muscular atrophy.
Rgenta's initial focus is on developing small molecules targeting the RNA regulation and splicing of disease-causing genes in oncology and neurological disorders that are 'undruggable' by traditional approaches. These target genes reside in the crux of regulatory programs and signaling pathways essential to disease development and represent ideal targets for pharmaceutical intervention.
Martin Heidecker, Head of the Boehringer Ingelheim Venture fund USA and chairman of the board of directors of Rgenta, commented, "We are very excited about Rgenta's novel and integrative platform for RNA-targeting. With the unique expertise and experiences of the Rgenta team in genomics, computation, disease biology, screening, and medicinal chemistry, we are confident that Rgenta will unlock the therapeutic potentials for a new class of targets and develop innovative therapies for patients."
About Rgenta Therapeutics
Rgenta Therapeutics is developing a pipeline of oral, small-molecule RNA-targeting medicines with an initial focus on oncology and neurological disorders. Our proprietary platform mines the massive genomics data to identify targetable RNA processing events and design small-molecule glues to modulate the interactions among the spliceosome, regulatory proteins, and RNAs. Our lead programs and unique approach are unlocking the therapeutic potential of historically undruggable targets in human diseases. Learn more at http://www.rgentatx.com