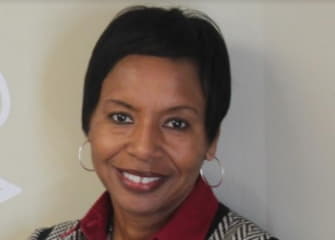 Michelle Becote-Jackson
The Y in Central Maryland is pleased to announce the promotion of Michelle Becote-Jackson to chief strategy officer. In this new position, Becote-Jackson will take on the added role of leading the internal strategic planning work, while continuing to lead the Y's social responsibility initiatives, which include civic engagement, volunteerism, diversity and inclusion, and public advocacy.
In this newly expanded role, Becote-Jackson will provide coordination and support to Y initiatives including trauma-informed work, continuing to make centers relevant to each community they serve, Y's role in the crime prevention and more. She will work to ensure that organizational initiatives are done in the context of the Y's overall strategic focus, timeline and resources.
A Baltimore native and graduate of Paul Laurence Dunbar High School, Becote-Jackson earned a Bachelor of Arts degree in computer science and business from Goucher College, and a Master of Science degree in business from Johns Hopkins University.
Our Mission:
The Y is a charitable organization in Central Maryland dedicated to developing the full potential of every individual through programs that build healthy spirit, mind and body for all.
Our Commitment:
At the Y, we are committed to providing family-oriented, affordable, high quality programs.
A cause driven organization with three areas of vital focus:
For Youth Development: nurturing the potential of every child and teen
For Healthy Living: improving our community's health & well-being
For Social Responsibility: giving back and providing support for our neighbors

The Y is a place for everyone.People of all races, ages, faiths, gender, abilities, backgrounds and incomes are welcome and financial assistance on a sliding scale is available to those who would otherwise be unable to participate.
Our Values:
Caring, Honesty, Respect and Responsibility
More information can be found at www.ymaryland.org.