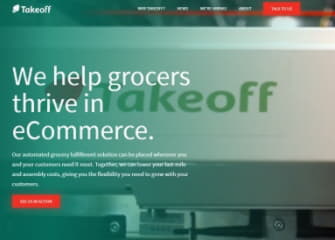 Takeoff Technologies confirmed the closing of its Series C fundraising with an additional $25 million in investment for 5 percent of the company, with a valuation of $500 million, bringing the total funds raised to $86 million. The Series C funding was led by Forrestal Capital. This funding is set to propel a rollout scale across North America, Europe and Australia.
Takeoff is at the forefront of microfulfillment as the first and only solution provider with several operating sites in partnership with major grocery retail chains. Takeoff has several operational microfulfillment centers (MFCs) in place, with many to follow in the coming months. Takeoff has proudly announced partnerships in the US with Albertsons, Ahold Delhaize, Wakefern, Sedano's and in Australia with Woolworths, with additional domestic and international partners to be disclosed in the near future.
As part of its continued progress, Takeoff also announced Version 2.0 of their Microfulfillment Solution, to be rolled out in 2020. Version 2.0 will feature a smaller and cleaner design of the MFC's floorspace, allowing for easier construction and installation. Version 2.0 will allow for 6 percent faster order picking, while increasing storage capacity. It will also introduce the use of autonomous mobile robots known as "open shuttles" to roll independently within the center, using a smart technology to avoid humans and other obstacles in order to transport totes full of groceries.
"Version 2.0 takes all of the innovative features from our original design and optimizes them," says co-founder and CEO José Vicente Aguerrevere. "We are constantly working to provide the maximum capabilities and service to our retail clients."
Co-founder and president Max Pedró, adds, "Both the Series C funding and the MFC Version 2.0 mark Takeoff Technologies as a continually growing force in the industry. The vision of accessible and fast online groceries is no longer a dream. We are making it happen."
About Takeoff
Takeoff Technologies is a Boston-based tech startup that provides hyperlocal microfulfillment solutions to help grocery retailers bring their grocery operations online. The microfulfillment centers, or MFCs, store groceries in compact, vertical rows, leveraging robots to pull groceries and assemble orders in a matter of minutes. Takeoff supports retailers growth in eCommerce by leveraging automation at a hyperlocal scale. Orders are placed online through established retailers and Takeoff's automated technology fulfills the order using robots in microfulfillment.
The company was cofounded by Jose V. Aguerrevere and Max Pedro in 2016, and recently closed its Series C financing led by Forrestal Capital, taking the total capital raised to US$86M.
The company's robotics technology is proven and ready to deploy at scale thanks to Takeoff's exclusivity partnership with Knapp, a leading global provider of automated warehouse solutions. By leveraging automated microfulfillment centers, Takeoff's innovative model operates at a much lower cost-to-serve than other eCommerce platforms, solving for both the cost of assembling the order and cost of the last mile. For more information, visit http://takeoff.com.