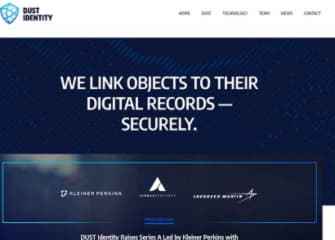 DUST Identity, pioneers of the first diamond unclonable security tag for supply chain security and end-to-end tracking, today announced $10 million in Series A funding led by Kleiner Perkins including strategic investors Airbus Ventures and Lockheed Martin Ventures. New Science Ventures, Angular Ventures, and Castle Island Ventures also participated in the round.
The funding comes on the heels of significant company momentum. Since launching from stealth in 2018, DUST Identity has engaged and deployed pilot programs with some of the world's leading technology and consumer electronics brands as well as government organizations. Traction has spanned industries including automotive, luxury goods, cosmetics as well as oil, gas and utilities. The investment will be used to accelerate product development and engineering, continue to fuel global go-to market strategy and deployment, and grow the customer base across industries.
"At a time when there is a growing trust gap between manufacturers and suppliers, DUST Identity's diamond particle tag provides a better solution for product authentication and supply chain security than existing technologies," said Ilya Fushman, partner, Kleiner Perkins. "Following our seed investment in the company last year, we are delighted to lead the Series A."
In 2019, DUST Identity reached several other key milestones including induction into the prestigious MIT Startup Exchange STEX25 and partnering with SAP to provide a blockchain interface to the physical world. The company also announced the appointment of Edna Conway, a global IT innovator, to its advisory board, was named a BostInno Startup to Watch and a BuiltIn Boston Startup to Watch, and it doubled employee headcount.
"Today's global value chains are facing new threats and challenges, and key stakeholders are recognizing that DUST Identity is the leading solution to truly protect the integrity of their supply chains," said Ophir Gaathon, CEO and Co-founder, DUST Identity. "There is a lot of stress today on current controls, and in some areas, organizations and their 3PLs are simply missing tools. In our view, the lack of trusted physical identity to parts and products is at the heart of a wide range of issues. We want to empower people with the ability to trust things by having a secure binding between data to the physical objects. Maintaining the integrity of the data is vital, but it is not enough. We need to extend the trust into the products."
"DUST Identity's approach to digital and physical security is robust and unique, both unclonable and future-flexible. As a result, DUST Identity's use cases span applications across a wide variety of both industries and steps in the supply chain. Providing part traceability, securing cargo, and connecting the digital twin to the physical asset, all call for new innovative tools to link data to things," said Thomas d'Halluin, Managing Partner, Airbus Ventures, "As a new means of creating secured and trusted data, DUST Identity's solution can ultimately directly support blockchain and alternate frontier software platforms – and thus we're particularly excited that DUST Identity represents one of the first solutions that can bridge the physical/digital trust divide."
"The supply chain is critical for any production line, and the ability to confidently verify components is vital to that line and the customers who depend on the final product," said Chris Moran, vice president and general manager of Lockheed Martin Ventures. "Investing in DUST Identity's technology offers the potential to enhance the verification and traceability process for all parts at multiple tiers in the supply chain."
DUST Identity offers the only unclonable and uncompromisable security tracking solution for hardware authentication and asset protection. The technology addresses a growing challenge of businesses and organizations experiencing vulnerabilities and security disruptions as their global value chains become more digital and dynamic. Use cases span industries and sectors and include data center security, raw material traceability, hardware component integrity and counterfeit luxury goods.
The product, Diamond Unclonable Security Tag (DUST), is an inexpensive, invisible and easy-to-apply coating of tiny diamonds that allow a manufacturer or enterprise to combine high-security authentication with full lifecycle tracking that traces down to the component level. An optical scanner and cloud-based infrastructure provides an interface to the object identity and provenance.
About DUST Identity
DUST Identity is the creator of the Diamond Unclonable Security Tag (DUST), a technology utilizing nanoengineered diamonds to create an unclonable identity layer on any object. DUST Identity is the only supply chain solution that ensures that trusted data and verifiable products are used and traced across their full lifecycle. DUST Identity, established in 2018 and headquartered in Framingham, was created by a team of quantum physics, nanotechnology and cyber experts. The company is an MIT spinoff, participated in several DARPA programs and is backed by Kleiner Perkins with participation from Airbus Ventures, Lockheed Martin Ventures, New Science Ventures, Angular Ventures and Castle Island Ventures. Learn more via www.dustidentity.com and follow us on LinkedIn and Twitter.
About Kleiner Perkins
For five decades, Kleiner Perkins has partnered with some of the most ingenious founders in technology, helping them make history with their bold ideas. Through 19 venture funds and four growth funds, we've invested $9 billion in over 900 companies, including pioneers such as Amazon, Genentech, and Google. Today, Kleiner Perkins continues to invest in founders and their bold ideas helping them to make history. For more information, visit http://www.kleinerperkins.com and follow us on Twitter @kleinerperkins.