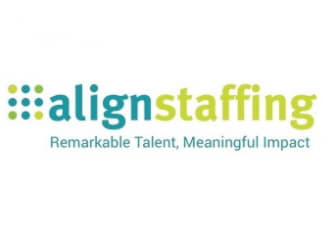 Baltimore City is the first step in a 'controlled expansion' plan for the staffing firm focused on education, behavioral health and social service clients.
Alignstaffing, a placement firm exclusively focused on education, behavioral health and social services, is expanding beyond its Washington, D.C. footprint with its first office in Baltimore.
Founder Aaron Copeland expects the new office to serve between 300 and 400 people – or "talent," as he calls them – in its first year, growing to 500 or more as the company develops.
"We want to affect lives," Copeland says. "That's our mission: if we can help someone, they can help their family and give back to their community."
The Baltimore office at 1501 St. Paul Street, across from Penn Station, officially opened yesterday. Copeland says it is the first stop in a "controlled expansion" that could include six cities along the East Coast.
Baltimore is first, he says, because it is "already a second home to me." A Prince George's County native and a graduate of now-Towson University, Copeland spends a good deal of time in the city. He serves on the board of Thread, the nonprofit that links critically underperforming high-school students with a large network of volunteers who provide "completely customized" support based on each student's needs.
Giving students the tools they need to succeed dovetails with Copeland's philosophy. In fact, he says his own experience as a struggling student was a factor in creating Alignstaffing 21 years ago.
Growing up in the 1960s, he was "inquisitive" to the point that his teachers became frustrated and assigned him to special education classes. After that, "I lost confidence in my ability to learn," Copeland says.
He began turning that around by trial and error in his teens. He became a CPA before starting Alignstaffing in 1998, and later started Connections Therapy Center, offering behavioral, occupational and speech therapy to children with special needs through a clinic in D.C. and in Lanham, Md.
"If I had been offered the tools I needed to succeed, early on, I could have done so much more," he says. "The good part is that because I didn't have the tools, it made me work a whole lot harder. It made me accept failure, which I had to do in order to learn – I failed a lot – I learned a lot. It taught me not to be discouraged."
Today, that ability "to fall off the tightrope, get back up and laugh at yourself" is a characteristic he seeks in Alignstaffing employees and the talent they place.
"They also have to be inquisitive; to be caring, and focused, and goal-oriented," he said. "Some people tell me that seeking characteristics is 'not tactical.' I think it's very tactical." I believe mirroring and modeling positive attributes and behaviors is just as important as selecting a corporate structure."
Limiting its placement services to the three core areas of education, behavioral health and social services allows Alignstaffing to get to know both its clients and the talent, so they can be matched quickly when a need arises – usually within an hour, sometimes within minutes, Copeland says.
In Washington, about 80 percent of the placements have been temporary, either as substitutes or to augment usual staffing levels. Copeland says the talent often prefers it that way, as it allows them to try different places before committing to one. Likewise, the client has the same opportunity to determine talent compatibility.
Most importantly, Alignstaffing removes barriers that might otherwise mean job seekers have fewer opportunities to either jump-start their careers or find leadership positions that allow them to contribute to the community.
"We are a business, but we live by a purpose-driven mission statement," Copeland says: "To reduce the impact of persistent poverty on underserved communities by removing barriers, so members can contribute and lead in the broader society and the next generation can invest in themselves."
ABOUT ALIGNSTAFFING:
Alignstaffing was founded more than two decades ago with the vision to connect DC-area children with the level of qualified educators and behavioral health professionals that were not available to its founder and CEO, Aaron Copeland, as he struggled through grade school.
Today, Alignstaffing has grown to a multi-location recruiting firm, focusing on three core industries: education, behavioral health, and social services. The firm employs nearly 50 professionals and places more than 1,500 professionals in organizations like traditional and non-traditional schools, early learning centers, clinics and insurers each year.
Alignstaffing is dedicated to improving communities and creating a remarkable experience for all those they serve. To learn more, visit: www.alignstaffing.com.