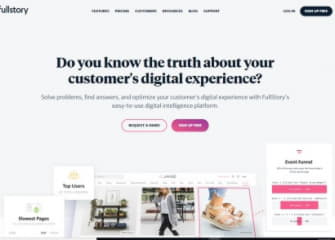 FullStory, the ground-breaking software company that is transforming how leading consumer brands and growing SaaS companies understand and improve digital customer experiences, has closed $32 million in Series C funding. In addition to continuing to scale sales and marketing, the Atlanta-based company plans to direct funding toward further evolving their digital experience analytics platform into a first-of-its-kind engine for digital intelligence.
The Series C was led by Stripes, a new investor in FullStory and leading growth equity firm focused on software and consumer market leaders, including monday.com, Flatiron Health, GrubHub, Udemy and Upwork, among others. Dell Technologies Capital, another new investor, joined Stripes alongside GV (formerly Google Ventures), Kleiner Perkins, and Salesforce Ventures, all of whom have participated in prior funding rounds. The current $32 million investment brings FullStory's total funding to $57 million.
Along with the funding, Ron Shah, partner at Stripes, joins the FullStory board of directors. Creighton Hicks, partner at Dell Technologies Capital, joins as an observer to the board.
According to Gartner, Inc., "Customer experience (CX) is emerging from organizational silos and is becoming a cross-organizational, board-level focus. Respondents to the 2018 Gartner Survey prioritized customer analytics as the No.1 investment to improve the customer experience."
"More and more, businesses realize that while traditional analytics are big on data, they're short on answers, especially when it comes to solving for digital customer experiences," said Scott Voigt, FullStory CEO and co-founder. "Top-down tools simply weren't built to provide the insights companies need to surface—and solve—problems in the increasingly complicated realm of customer experience. FullStory aims to tell you when, where, and why you are losing CX-related revenue and operationalizes concern for the digital customer experience across organizations in a secure, scalable, and privacy-compliant way. The resulting insights are actionable, intuitive, real-time, and easy-to-access for organizations big and small."
"We have been investing in leading software and consumer companies for many years now, and one of the unifying themes we have observed is that best-in-class players in every category invariably have a laser focus on digital customer experience," shared Shah of Stripes. "As we got to know FullStory, we realized that they had a team and a technology platform of extraordinary scale and power that could meet exactly this growing demand. We believe FullStory has the attributes of a company poised to succeed in their market as innovative executives across the world realize that digital experience is a critical-path to revenue, and increasingly the primary way in which they engage with their customers in the modern economy."
"Customer experience is top-of-mind for every company, no matter what size or industry," said Adam Blitzer, EVP & GM Sales Cloud at Salesforce. "Every part of the business—from product teams to support, engineering, marketing, sales, and customer success—needs access into deep insights around digital customer experiences. FullStory's technology provides intelligent insights for these companies to help drive customer success."
Since early 2017, FullStory has seen a fourfold increase in their workforce, now totaling some 175 "FullStorians." To support this expanding family, the company is preparing to move to their new Peachtree Road headquarters. FullStory's new space is designed to encourage collaboration and provide the company with critical room to grow. FullStory plans to hire at least 100 employees over the next year.
About FullStory
Founded in 2014 by former Google engineers, FullStory provides thousands of companies globally with unparalleled insights into the digital experiences of their customers. Product management, software development, marketing, and customer support and success teams all use FullStory's innovative, fast, and secure digital intelligence platform to understand and transform the customer experience online. For more information about FullStory, visit http://www.fullstory.com.
About Stripes
Stripes is a leading growth equity firm that brings a unique, entrepreneurial approach to investing in high-growth Software and Consumer businesses around the world. For over a decade, Stripes has been partnering with market-defining companies to provide them with the support they need to accelerate growth and achieve their long-term vision. Stripes' mission is to have a culture, a set of resources, and expertise that provides entrepreneurs with an unparalleled advantage in markets that are evolving rapidly due to changes in technology and consumer behavior. For more information about Stripes, visit http://www.stripes.co.
About Dell Technologies Capital
Dell Technologies Capital is the investment arm for Dell Technologies. We've invested in over 100 companies that push the envelope on digital technology for enterprises and consumers. We are a team of world-class investors who help our companies succeed. We focus on early-stage investments with passionate founders. Our companies gain unique access to the go-to-market capabilities of Dell Technologies. For more information, visit http://www.delltechcapital.com.
About Kleiner Perkins
For five decades, Kleiner Perkins has partnered with some of the most ingenious founders in technology, helping them make history with their bold ideas. Through 19 venture funds and four growth funds, we've invested $9 billion in hundreds of companies including pioneers such as Amazon, Genentech, and Google. Today, Kleiner Perkins continues to invest in founders and their bold ideas helping them to make history. For more information, visit http://www.kleinerperkins.com and follow us on Twitter @kleinerperkins.
Salesforce Ventures

Salesforce is the fastest growing top five enterprise software company and the #1 CRM provider globally. Salesforce Ventures—the company's corporate investment group—invests in the next generation of enterprise technology that extends the power of the Salesforce Customer Success Platform, helping companies connect with their customers in entirely new ways. Portfolio companies receive funding as well as access to the world's largest cloud ecosystem and the guidance of Salesforce's innovators and executives. With Salesforce Ventures, portfolio companies can also leverage Salesforce's expertise in corporate philanthropy by joining Pledge 1% to make giving back part of their business model. Salesforce Ventures has invested in more than 300 enterprise cloud startups in 20 different countries since 2009. For more information, please visit http://www.salesforce.com/ventures.