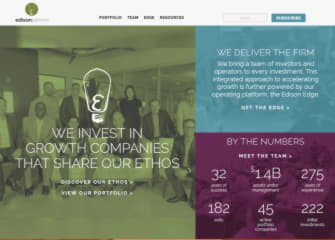 PARSIPPANY, N.J.--(BUSINESS WIRE)--Northpass, a modern learning solution for driving business performance, has secured $4 million in Series A funding led by Edison Partners, a New Jersey-based growth equity investor. The funds will be used to accelerate product development and adoption.
2018 was a breakout year for Northpass. The company achieved 100% revenue growth and has plans to double again this year. Currently, Northpass is relied on by over 200 companies, including some of the world's most innovative and disruptive brands such as Uber, Lyft, Airbnb, Shopify, and Square.
"Modern learning tools have become essential for enabling today's front-line teams," says Steve Cornwell, founder and CEO of Northpass. "It's all about enablement. High-growth companies need seamless onboarding, increased retention, and improved customer satisfaction. Northpass gives stakeholders the skills needed to truly drive business success."
While traditional learning management systems help with compliance training and off-the-shelf course delivery, Northpass is focused on serving the unique needs of high-growth companies in the on-demand and SaaS space. Such companies are expanding quickly and need to develop custom onboarding, training, or performance support programs, but often lack prior experience with such initiatives.
The Northpass platform was built for scale, flexibility, and ease-of-use, and was recognized by Capterra as one of the Top 20 most user-friendly LMS platforms in 2018. Everything, from Northpass' product features to its customer success program, is designed to help modern organizations easily create, deliver, and measure proprietary learning programs.
"By aligning learning with business performance, Northpass is setting itself apart from competition," says Tom Vander Schaaff, General Partner of Edison Partners. "Northpass has a clear vision, relentless work ethic, and a culture built on strong values. We're proud to partner with Northpass and offer the Edison Edge platform to accelerate their already exponential growth."
Northpass is able to excel in the markets it serves because it's mobile-friendly, fully white-labeled, and easily integrates with existing technology stacks. All of these features help provide a seamless learning experience for partners, customers, and employees, regardless of where or when they prefer to learn.
Because of its relentless focus on the challenges faced by today's high-growth companies and deep understanding of the modern workforce, Northpass is ideally positioned to help organizations meet their learners where they are in order to drive better business outcomes.
About Edison Partners
For more than 30 years, Edison Partners has been helping CEOs and their executive teams grow and scale successful companies. The firm's investment team brings extensive investing and operating experience to each investment. Through a unique combination of growth capital and the Edison Edge platform, consisting of operating centers of excellence, the Edison Director Network, and executive education programs, Edison employs a truly integrated approach to accelerating growth and creating value for businesses. A team of experts in financial technology, healthcare IT and enterprise solution sectors, Edison targets high-growth companies with $5 to $25 million in revenue; investments also include buyouts, recapitalizations, spinouts and secondary stock purchases.
Edison's active portfolio has created an aggregated market value exceeding $10 billion. Edison Partners is based in Princeton, NJ and manages more than $1.4 billion in assets throughout the eastern United States.
About Northpass
Northpass is modern learning software for training and enabling employees, customers, and partners. The company's intuitive and flexible platform enables anyone, even one with no background in e-learning, to create and deliver original online training programs that engage learners and improve business outcomes. Along with its firm commitment to customer success, Northpass enables customers to develop, launch, and manage highly effective training programs that drive positive business results.