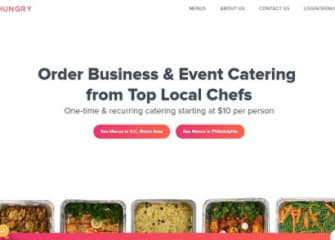 HUNGRY, the online marketplace that connects independent chefs with the $25 billion business and events catering market, today announced it has raised $8.0 million in Series A financing. The round was co-led by Sands Capital Ventures and Motley Fool Ventures, and included Marcy Venture Partners. Additional investors include:
Walter Robb, former Whole Foods co-CEO
Usher, Grammy Award-winning singer and songwriter
Tom Colicchio, Chef/Owner – Crafted Hospitality and Head Judge/Executive Producer of Bravo's Top Chef
Ming Tsai, Chef/Owner Blue Dragon, CEO Ming East-West, Host/Executive Producer Simply Ming
Seth Goldman, Honest Tea founder and Beyond Meat Executive Chairman
Dave Free, 2018 Grammy Award-winning producer
Ndamukong Suh, Five-time NFL Pro Bowler
Dan Simons, Co-founder & owner, Founding Farmers Restaurant Group
Daniel Kao, former GM of DoorDash Canada
Eric Kessler, founder of Arabella Advisors and board member, James Beard Foundation
James Madison Innovations, a startup investment organization affiliated with JMU
Private Access Network (PAN), a platform for investing in venture-backed deals

"HUNGRY's disruptive model is a game changer for everyone involved in their ecosystem. The team is led by seasoned entrepreneurs who have an incredible track record. We are pleased to partner with HUNGRY and look forward to supporting their explosive growth," said Mike Graninger, Sands Capital Ventures.
"The platform HUNGRY has built provides chefs with economic opportunity and culinary freedom, while making it easier for offices to provide good, reliable, healthy food. We are proud to support a company that serves the needs of so many stakeholders so well," said Lawrence Greenberg, Venture Partner, Motley Fool Ventures.
"HUNGRY has built a brand that is defined by customer satisfaction. The team has cracked the code on a user-friendly marketplace that combines skilled chefs with an easy-to-use digital ordering experience. We're thrilled to be a part of the HUNGRY journey," said Larry Marcus, Marcy Venture Partners Co-Founder and Managing Director.
The financing brings HUNGRY's total to $12.5 million since its founding in late 2016 by Eman and Shy Pahlevani. HUNGRY will use the funds to continue investing in its digital marketplace and logistics platform and to accelerate growth in new markets across the United States. Today the company operates in Washington D.C. and Philadelphia.
"HUNGRY's core purpose is to make the lives of everyone we touch better. Through our proprietary platform we have created a new and better career path for chefs while providing higher quality and more delicious food for employees and removing the hassle and frustration of ordering office catering for companies," said Jeff Grass, HUNGRY's CEO.
HUNGRY provides independent chefs with a platform to sell their cuisines to corporate customers. Rather than ordering from restaurants or traditional caterers, offices can order directly from a vast network of talented independent chefs, each specializing in their own cuisines. HUNGRY chefs include former White House chefs, Chopped Champions, Food Network chefs, and even celebrities' personal chefs.
"We are very thankful to all of our investors and supporters. This truly is an amazing syndicate of powerful investors and we are excited about having their support to propel HUNGRY's growth across the country," said HUNGRY founder and COO, Eman Pahlevani.
HUNGRY saves companies an average of 33 percent over traditional restaurants and caterers, while chefs on the HUNGRY platform earn three to 10 times more per hour than standard culinary jobs*. More than 400 companies in the Washington, D.C. and Philadelphia areas have put their office food needs in the hands of HUNGRY and its network of top chefs, including Amazon, E-Trade, Microsoft, WeWork, and many more.
About Hungry
HUNGRY was founded as a revolutionary way for independent chefs to connect with the $25 billion office and events catering market. HUNGRY is committed to improving the communities it serves. Through its 'Fight Against Hunger' program, HUNGRY donates one meal to those in need for every two purchased, and its 'WeRecycle' program promotes environmental waste reduction by offering biodegradable plates and cutlery with its delivered meals. HUNGRY is headquartered in Arlington, VA and operates in two markets today – the Washington, D.C. metropolitan area and Philadelphia.
About Sands Capital Ventures
Sands Capital Ventures invests in entrepreneurs building businesses in three dynamic, high-growth markets: Life Sciences, Technology, and Global Consumer. As the venture capital affiliate of Sands Capital Management, Sands Capital Ventures brings significant global diligence capabilities based on our deep domain experience. Sands Capital Ventures likes to back businesses that are creating scalable innovations that have the potential to become market leaders.
About Motley Fool Ventures

Based in Alexandria, Va., Motley Fool Ventures brings The Motley Fool's investing principles and member community to venture capital. Launched in 2018, Motley Fool Ventures invests in early-stage companies that leverage technology to create a clear competitive advantage in their industry. Its dedicated team, investor community, and robust network aim to provide value to entrepreneurs beyond just capital. To learn more about Motley Fool Ventures, please visit: http://foolventures.com.