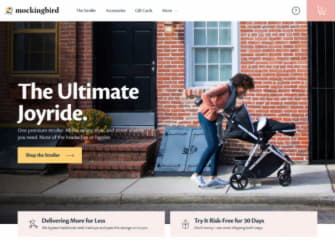 Mockingbird launches as a modern direct-to-consumer baby brand that aims to empower parents and alleviate the stresses associated with entering parenthood. Debuting with a customizable stroller and a variety of companion accessories, Mockingbird delivers rigorously-tested luxury products at significantly lower prices than many of its competitors.
As a direct-to-consumer brand, Mockingbird enables consumers to bypass the markup – often 40 percent or more – that traditional retailers place on baby products.
Mockingbird also announces a $1.6 million seed round led by Rick Heitzmann, Founder and Managing Director at FirstMark Capital, in conjunction with the Co-Founders of Hubble Contacts, Founding Architect of Uber and the CEO of InVision, among others.
To design the company's namesake stroller, Mockingbird Founder and CEO Eric Osman worked closely with safety compliance experts to develop a testing program that exceeds government-regulated safety standards. This includes various tests that are not on the U.S. list of requirements such as the Curb Test, which simulates forcefully bumping the stroller against a curb 10,000 times.
Mockingbird's products are both ASTM-certified and JPMA-certified, and have safety-focused features such as light-reflective lining.
"I was inspired to create Mockingbird when my sister was pregnant – I saw how parents are forced to choose between cheaper products that don't suit their lifestyle, and confusingly expensive products that break the bank," says Eric Osman, Mockingbird Founder and CEO. "And the worst part is, luxury brands often use anxiety and guilt to try getting parents to buy the most expensive option." According to Crowdtap, more than 60 million millennials will become parents in the next decade. "With Mockingbird, we're providing them with high quality products at prices that make more sense."
Backed by a lifetime guarantee, the single-seat, multi-functional Mockingbird stroller is priced at $350. Customers can also customize their stroller's canopy and leatherette accents, and purchase additional accessories ranging in price from $10 to $100.
Sample of Mockingbird Stroller Product Features
Canopy– Adjustable, weather-resistant canopy that allows for liquid to bead off so it won't seep through or stain. The canopy also has a see-through peekaboo window, a zippered mesh section, and a full-coverage sunshade (attachable by magnets) to keep the seat area shaded and cool.
Storage – Extra large basket under the seat with an inner pocket, detachable front cover, and additional hidden pocket behind the seat.
Frame –One-hand fold, with or without seat attached (i.e., automatically locks and stands upright when folded). The advanced suspension system provides stability and smoother strolling, and the handlebars rotate to accommodate parents of different heights.
Wheels– Guaranteed never to go flat, the foam wheels feature shock absorption, a swivel lock equipped for all terrains, and a simple one-step footbrake.
Seat– A reversible seat to switch between forward-facing and parent-facing positions, a connected five-point harness to make getting the child in and out seamless, and durable nylon material for easy cleanup.
Unlike traditional retailers, Mockingbird offers a 30-day at-home trial, encouraging customers to use their products in real life and make sure they're right for their lifestyle. Additionally, Mockingbird provides a seamless website experience that's easy to navigate, and its customer service team is fully accessible via phone, text, email, as well as social media platforms including Facebook, Instagram and Twitter.
"Having looked at multiple direct-to-consumer brands over the years, we believe that Eric's experience, foresight, and customer-first focus will lead to a remarkable business," says Rick Heitzmann, Founder and Managing Director at FirstMark Capital. "The baby product market is an untapped space for direct-to-consumer and we are extremely excited to be included in Mockingbird's future."
Mockingbird will also roll out its Birds of a Feather referral program which encourages consumers to share a dedicated link with family and friends.
Mockingbird pledges to make a charitable donation with each purchase made through referrals.
About Mockingbird
Mockingbird is a direct-to-consumer baby brand dedicated to providing exceptional products for new parents at an affordable price. Debuting with a stroller and companion accessories, the company delivers directly to your home and offers a 30-day trial to ensure products work for your life. Trusted for amazing quality and a modern aesthetic, Mockingbird is the new go-to for today's parents.