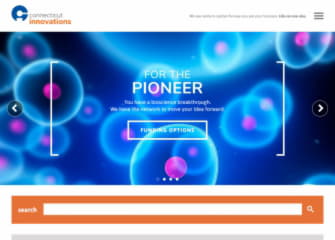 Connecticut Innovations (CI), Connecticut's strategic venture capital arm and the leading source of financing and ongoing support for Connecticut's innovative, growing companies, today announced the closing of a $750,000 investment in Aureus Analytics (Aureus), a provider of AI and a predictive analytics platform for the insurance industry. Aureus was selected as an early winner of VentureClash and is the first company to receive an investment from the VentureClash 2018 competition.
CI's investment is a part of a total fundraise of $3.1 million, which also included participation from other funds including Multi-Act, Alpine Meridian and additional investment by existing investors.
"From the strength of the management team to the prowess of their analytics solutions, we have been very impressed with Aureus's progress and prospects," said Peter Longo, senior managing director of investments at CI. "Their new headquarters in Hartford will allow them access to major insurers in the United States and accelerate their growth in this market."
Aureus provides insurance industry solutions hosted on an artificial intelligence platform that combines both explicit and implicit data to measure the customer experience in real time to determine a SentiMeter score for customers. In addition to participating in the VentureClash competition, Aureus also was selected to be part of the inaugural Hartford InsurTech Hub and subsequently expanded its presence to Hartford at the conclusion of the program.
"Programs like VentureClash and the Hartford InsurTech Hub help companies like ours grow and prosper in Connecticut," said Anurag Shah, CEO and cofounder of Aureus. "This investment from CI, along with the support we have received from other corners of the state, will allow us to continue on our growth path and bring enhanced analytics solutions to the insurance industry."
The new financing will be used by the company to support growth, drive geographic expansion in the North American market and ramp up the technology and teams to accelerate product development.
About VentureClash
VentureClash is Connecticut Innovations' global venture challenge focused on early-stage companies. The challenge identifies promising companies in digital health, financial technology, insurance technology and the Internet of Things that will receive investments from a $5 million award pool and the support of resources around Connecticut. To learn more, visit http://www.ventureclash.com.
About Connecticut Innovations Inc.
Connecticut Innovations is Connecticut's strategic venture capital arm, providing funding and strategic support to early-stage technology companies. In addition to equity investments, CI provides grants that support innovation and collaboration through CTNext, and connections to its well-established network of partners and professionals. To learn more, visit http://www.ctinnovations.com.
About Aureus Analytics

Founded in 2013 with operations in the United States and India, Aureus is the customer intelligence and experience company that enables insurers to deliver superior customer experience leading to greater customer retention, loyalty and lifetime value. The AI platform has processed more than 40 million insurance policy data points and learns from a variety of structured and unstructured data sets to measure the customer experience in real time to determine a SentiMeter score for all customers. To learn more, visit http://www.aureusanalytics.com.