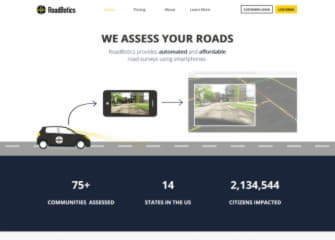 RoadBotics, developer of advanced computer vision technology for inspecting roads and infrastructure, has raised $3.9M in its series seed round of financing, led by Boston-based Hyperplane Venture Capital. The capital will help the company revolutionize the way engineering firms, local governments and municipalities manage and maintain roadways and other infrastructure.
RoadBotics, headquartered in Pittsburgh, PA, is a rapidly-growing two-year-old company that uses deep learning to assess roadways for 78 cities, towns and counties across the US and Australia. The company emerged from the Robotics Institute at Carnegie Mellon University in December 2016 and grew out of Carnegie Mellon's extensive research in autonomous vehicles. Co-founded by Christoph Mertz, Ph.D., Benjamin Schmidt, Ph.D., and Mark DeSantis, RoadBotics has used the same technology that moves autonomous vehicles – deep learning-based image processing – to create a product that can be used to efficiently assess road quality.
RoadBotics uses a proprietary app and standard smartphone, placed on the windshield of any vehicle, to collect roadway image data. The image data is uploaded to the RoadBotics platform where deep learning is applied to isolate the road from other objects in each image, assess the road condition, and automatically generate a condition rating for the road surface. This objective rating is based on the presence, type and density of the road surface features and distresses that pavement engineers are trained to identify when visually inspecting roads. Finally, RoadBotics renders the complete assessment on its interactive, online mapping platform called RoadWay.
"Continuously monitoring a road network is a hard job, particularly when they can stretch for thousands of miles. It is costly and time-intensive to put trained engineers out on the road to perform assessments," said Schmidt, RoadBotics' CTO. "Improving the quality of the world's roads is one of the most viable ways to utilize automated, low-cost, high resolution inspection technology and RoadBotics is leading the way."
Since securing their first customer in June 2017, RoadBotics has seen rapid growth in customers from local governments, counties and engineering firms. One such customer, the city of Savannah, is using RoadBotics as the foundation for their data-driven infrastructure strategy.
"RoadBotics will allow us to better assess the overall condition of city roadways and increase the accuracy of the data collected, ultimately enabling us to more effectively manage our infrastructure replacement," said Heath Lloyd, Savannah's Chief Infrastructure and Development Officer. "Our goal is to use our resources as efficiently as possible. RoadBotics helps us accomplish that by enhancing our ability to better plan and implement city-wide roadway replacement schedules."
Across the world in Australia, RoadBotics is partnering with leading engineering firm Fulton Hogan to offer its cutting-edge technology across the South Pacific. RoadBotics has enabled Fulton Hogan to help their clients save time and resources, eliminating the need to send engineering crews out into the field for weeks at a time to visually inspect pavement. RoadBotics enables them to gather higher quality data in much less time.
"RoadBotics technology brings a whole new dimension to our road management services. We are thrilled to offer our customers RoadBotics because the objective data it provides impacts all parts of pavement management – from making smarter maintenance decisions to crafting more strategic long-term plans," says Peter Rodrigues, Divisional Manager at Fulton Hogan. "Most importantly we see remarkable potential in RoadBotics technology to reshape the world of pavement management in the very near future – soon we hope to use RoadBotics not just to inspect roads, but to assess a variety of infrastructural assets."
RoadBotics is continuing to develop its technology to meet the demands of its customers.
"Because of our success to date, customers are asking us to assess and rate a wide variety of other objects on or along the roadway such as guard rails, signs and utility lines. The venture funding from Hyperplane and others is enabling us to expand our vision and meet the needs of our customers," said DeSantis, RoadBotics' CEO. "We're very excited about the faith our venture partners have placed in us and looking forward to expanding the use of our technology and reaching new customers."
"We're committed to helping innovative companies use AI and machine learning to make a huge difference in addressing tough challenges in all facets of life. RoadBotics is exactly the kind of company we want to support," said Jack Klinck, Managing Partner at Hyperplane Venture Capital.
RoadBotics is part of the growing 'Urban Tech' sector that is attracting significant venture funding. Along with Hyperplane Venture Capital, RoadBotics has received financing from several prominent urban tech investors, including Urban-Us, Urban-X, Radical Ventures, and Ekistic Ventures, as well as the Wharton Alumni Angels and Innovation Works.
About RoadBotics
RoadBotics was spun out of the Carnegie Mellon University Robotics Institute in 2016. Our chief scientist Dr. Christoph Mertz spent several years and significant research dollars at CMU developing a smartphone-enabled road inspection tool for diagnosing road defects. By utilizing the latest technological advances in machine vision and machine learning, the technology had the potential to one-day rapidly identify road issues at a massive scale and an affordable price. Realizing the power of this type of transformative technology, Dr. Mertz, Dr. Mark DeSantis, and Dr. Benjamin Schmidt formed RoadBotics to commercialize the technology. The founders quickly expanded the team with technical and business expertise. For the last several months the team has designed, developed and commercialized a revolutionary product that is transforming road management.
About Hyperplane Venture Capital
Hyperplane Venture Capital is a seed stage firm based in Boston, Massachusetts. The firm partners with exceptional founders who are harnessing machine intelligence, sensor technology, and cloud computing to design solutions at the nexus of perception, communication, and insight. Hyperplane's portfolio covers a wide array of industries including financial technologies, robotics, digital health, industrial automation, and others.