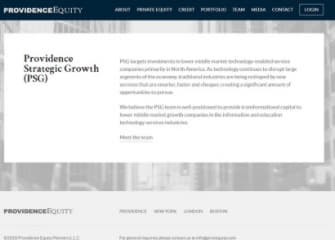 FOSTER CITY, Calif.--(BUSINESS WIRE)--Conversica, Inc., the leader in conversational artificial intelligence (AI) for business, today announced that it has secured a $31 million Series C funding round, the largest Series C investment to date in a conversational AI company.
The Series C was led by existing investor Providence Strategic Growth Capital Partners L.L.C. (PSG), an affiliate of Providence Equity Partners, with participation from other existing investors Toba Capital and Kennet Partners and from new investors CIBC Innovation Banking and Savano Capital Partners. This funding round brings the total invested capital in Conversica to $87 million, including $34 million raised in a Series B round and $22 million in Series A rounds. Investment proceeds will be used to fund global sales and marketing expansion, as well as to continue development of Conversica's award-winning technology, which was recently granted a U.S. patent for an AI-powered system that automatically carries on conversations.
Conversica uses conversational AI technologies to power intelligent assistants that automate routine, yet important, business conversations. The company's flagship AI Sales Assistant engages marketing leads in human-like conversations to qualify more of them for sales, freeing humans to spend more time closing business. Additional assistants work in higher education to follow up with prospective students, in the automotive industry to engage customers throughout their lifecycle, and in customer success organizations to boost satisfaction and retention, allowing employees to focus on the highest-impact tasks.
"Conversica continues to define what it means to deliver breakthrough customer success and business growth in the conversational AI category," observed Conversica CEO Alex Terry. "Our market traction and performance are why our current investors have doubled down on Conversica with this Series C funding round, a resounding endorsement of the hard work of hundreds of Conversica employees serving over a thousand of customers around the world. I believe even more strongly today in the power of AI to deliver an improved customer experience and to free humans from the routine work that limits us reaching our full potential. I'm thrilled that our investors share this same vision and have reaffirmed their commitment to the company's success."
Conversica is one of the very few conversational AI companies with the track record of success necessary to achieve a Series C funding round. The company's AI assistants have touched more than 70 million people, equivalent to a quarter of the adult U.S. population. Having created and defined the conversational AI category eight years ago, Conversica is distinguished by its innovative natural language understanding and natural language generation technology; its extensive conversational data set and deep data science expertise; its domain expertise in process automation and integration; and its diverse global customer base of more than 1,000 forward-acting organizations, including Box, Chrysler, Snowflake Computing, CenturyLink, the Sacramento Kings and Oracle.
The company is a member of the prestigious CB Insights AI 100 and a three-time member of the Inc. 5000 list of fastest growing private companies and was recently recognized with a number of awards, including the AIconics award for Best Application of AI to Sales and Marketing and the Digiday award for Best Sales Automation Platform.
"Conversica created and leads the market for automating business conversations using conversational AI and has proven its ongoing value with incredible customer growth and a forward-looking vision that spans many parts of the customer experience lifecycle," said Gopi Vaddi, Managing Director of Providence Strategic Growth. "Conversica has transformed its cutting-edge technology into a solution that delivers real value for customers in terms of increased revenue and satisfaction. Conversica is poised for explosive growth, and PSG led this funding round because it's the company defining success in the dynamic, high-growth AI market."
Additional Information
About Conversica
Conversica is the leader in conversational AI for business and the only provider of AI-driven lead engagement software for marketing and sales organizations. The flagship Conversica® AI Sales Assistant helps companies find and secure customers more quickly and efficiently by automatically contacting, engaging, qualifying and following up with leads via natural, two-way conversations. Used by more than 1,000 companies worldwide, Conversica's sales assistants are built on a proven and patented AI platform integrating natural language processing (NLP), natural language generation (NLG), and machine learning (ML) capabilities and engage prospects over multiple communication channels and in multiple languages. Recognized by Gartner as a Cool Vendor, Conversica is a portfolio company of Providence Equity, Kennet Partners and Toba Capital and is headquartered in Foster City, Calif. To learn more, visit conversica.com and follow the company on Twitter, LinkedIn and Facebook.