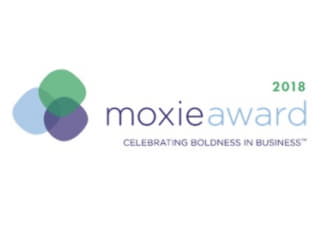 Winners to be announced at Awards Ceremony on Oct. 11th at The Ritz-Carlton, Tysons Corner
The 2018 Moxie Award Reception and Dinner to recognize Boldness in Business will be held on October 11, 2018 at The Ritz-Carlton, Tysons Corner. The Moxie Award program is a celebration honoring the accomplishments and achievements of growing businesses, nonprofits, and associations in the Washington D.C. metro area. Tickets for the event can be purchased at www.moxieaward.com. Last year, the event drew more than 300 business leaders, and nearly 500 guests are expected to attend this year.
"We are very much looking forward to announcing the 2018 Moxie Award Winners at this annual celebration; deserving organizations that have demonstrated their Moxie in truly innovative and inspiring ways," said Sarah Cody, 2018 Moxie Award chairwoman.
A record number of Moxie Award entries were received this year, and 144 finalists among 15 categories were selected based on innovation, growth, industry leadership, community service, and local achievements. The complete list of finalists can be found here: https://moxieaward.com/finalists/.
Organizations honored with the Moxie Award are recognized for having demonstrated boldness and innovation as an integral part of their growth strategy. These outstanding organizations make the D.C. region a great place to do business and an incredible place to live, thrive, and play.
Categories
The Moxie Award program has expanded in 2018 with the addition of several new categories. The full list of categories includes Businesses & Professional Services, Construction & Real Estate, Consumer Services, Cybersecurity, Financial Services, Fortune 500™, Government Contractors (four categories based on size of company), Healthcare, Nonprofits & Associations, Software, Technology, and Women-Owned Government Contractors.
Sponsors
Sponsors of the 2018 Moxie Award include 3 Pillar Global, Accelerent, Acorn Financial Group, Berenzweig Leonard, BroadStreet, Buccini/Pollin Group (BPG), Business Benefits Group (BBG), Cohn Reznick, CONNECTpreneur, Criterion, CYwP Fund, EagleBank, Insperity, Institute for Private Investors (IPI), Mercedes-Benz of Arlington, NFP, Print 1, Shulman Rogers, Signature Financial Group (SFP), The McLean Group, Unanet, Verasolve, and Zinnia.