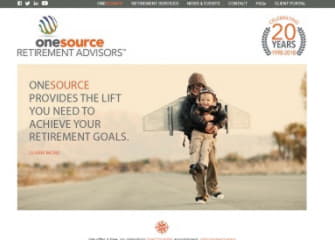 Wealth Enhancement Group, an independent wealth management firm that oversees $9.3 billion in client assets*, announced today that it has signed a definitive agreement to acquire OneSource Retirement Advisors, an independent financial advisory practice with $276 million in client assets based in Malvern, Pennsylvania, in the greater Philadelphia metropolitan area. The transaction represents the latest step in Wealth Enhancement Group's consistent expansion in recent years as the firm continues to pursue its strategic goal of positioning itself as a leading national wealth management and financial planning brand. The firm's efforts to expand through targeted acquisitions have been further bolstered by strong organic growth, which brought in client assets of more than $1 billion in 2017.
Jeff Dekko, Chief Executive Officer of Wealth Enhancement Group, said, "We are very pleased to announce our acquisition of OneSource Retirement Advisors. OneSource's holistic approach, which focuses on guiding clients through their pre- and post-retirement years by leveraging the combined expertise of a team that includes an in-house attorney, a CPA and Certified Financial Planner™ Professionals, is a perfect fit with our client-service philosophy. We believe that OneSource and the clients they support are ideally positioned to benefit from our unique, team-based approach to providing financial planning, portfolio management and back office efficiencies."
Other recent acquisitions for Wealth Enhancement Group include Chicago-based Summit Wealth Advisors in 2013; HHG & Company in Darien, Conn. and Sound Financial Solutions in Houston in 2016; and two firms – CLA Financial Advisors in Chicago and CPA Retirement Planning in Jacksonville, Fla. – in 2017. The firm acquired Cimino Wealth Advisors in Clinton, Wis. and Retirement Strategies, Inc., also in Jacksonville, earlier this year.
OneSource Retirement Advisors, led by President John O'Brien, CFP® and Vice President Frank Ortner III, CPA, PFS, brings together extensive planning and portfolio management experience with legal and accounting expertise to help clients pursue financial independence and personal fulfillment in the years leading up to and during retirement. The firm currently serves approximately 200 clients from its office in Malvern.
John O'Brien, President of OneSource Retirement Advisors, said, "On behalf of the entire OneSource team, we are very excited to become part of the Wealth Enhancement Group family. In building our firm, we have consistently been guided by one key strategic principle: to develop the best and most comprehensive service platform possible to provide holistic retirement and pre-retirement advice to our clients, encompassing not only asset management, but tax guidance, estate planning and long-term financial planning, as well. Wealth Enhancement Group, with its exceptional personnel, client service philosophy, and team-based approach to portfolio management, financial planning and operational support, is exactly the partner we were looking for to continue to grow our business and provide our clients with the financial clarity and confidence they deserve."
Mr. Dekko concluded, "Wealth Enhancement Group is laser focused on driving growth by partnering with the right types of firms across the country that not only fit our model but are also located in key markets. We also seek to achieve multi-billion dollar asset levels in each of the areas where we develop a footprint. Our goal is not to achieve growth for its own sake, but to identify advisors who can derive the greatest possible benefits from what we can deliver to provide a superior service experience to clients in strategic markets and drive strong organic expansion in the years ahead. With this announcement – our eighth acquisition in recent years – we are confident that we have brought another ideal partner to our platform. We look forward to working with this exceptional team in the years ahead, and to all that we will accomplish together."
Financial terms of the transaction were not disclosed. The transaction is expected to close in November 2018.
About Wealth Enhancement Group?
Wealth Enhancement Group is a Greater Minneapolis-based independent wealth management firm offering comprehensive and customized financial planning and investment management services nationwide, with offices in Florida, New York, Connecticut, Minnesota, Wisconsin, Iowa, Illinois, and Texas. Founded in 1997 and backed by Lightyear Capital, LLC, a private equity firm specializing in financial services investing, Wealth Enhancement Group serves clients in more than 40 states. Wealth Enhancement Group specializes in providing retail clients with the team-based expertise and resources they need to simplify their financial life. For more information, please visit www.wealthenhancement.com.
*Wealth Enhancement Group and its Registered Investment Advisor, Wealth Enhancement Advisory Services, have approximately $9.3 billion in client brokerage and advisory assets as of 8/31/18.
Advisory services offered through Wealth Enhancement Advisory Services, LLC (WEAS), a registered investment advisor. Certain, but not all, investment advisor representatives (IARs) of WEAS are also registered representatives of and offer securities through LPL Financial, Member FINRA/SIPC. Wealth Enhancement Group and Wealth Enhancement Advisory Services are separate entities from LPL Financial. Wealth Enhancement Group is a registered trademark of Wealth Enhancement Group, LLC.