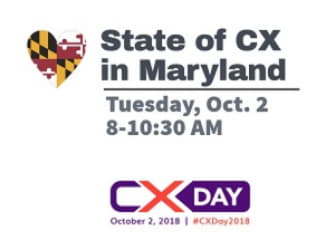 Speakers from Laureate Education, Legacy Exhibits, Marriott International, Maryland State Government, MedStar Health, Miles & Stockbridge, Sandy Spring Bank, T. Rowe Price and Others to Present as Part of Global CX Day Events
Many of Maryland's top customer experience leaders are convening for the first time on Tuesday, Oct. 2 for a special forum entitled "The State of CX in Maryland." Organized by the Baltimore Network of the Customer Experience Professional Association, the forum is part of a worldwide series of events called CX Day. Featuring speakers from Cravety, Laureate Education, Legacy Exhibits, Marriott International, the Maryland State Government, MedStar Health, Miles & Stockbridge, Sandy Spring Bank, and T. Rowe Price, among others, the forum will be held at T. Rowe Price's new Innovation Center in Linthicum Heights.
"Skillfully managing the entire experience with end-to-end thinking is becoming the new business standard," said event co-chair Ed Bodensiek and former chief experience officer for Miles & Stockbridge. "It goes far beyond customer service and is more much transformative. In Maryland a growing number of organizations are getting highly strategic around these changes. We felt like the time was right to get into a room and just learn from each other."
"Businesses, governments, and non-profits in Maryland are all seeingchanges in how their customers and employees want to be treated," saidGregory Derwart, managing director at the Maryland Department of Commerce and event co-chair. "It involves your digital experience, employee experience, and every other touch point you can think of. This forum will offer a bird's eye view on how organizations right here in our state are using emerging strategies, methodologies, and tools to win the war for customers and for talent."
According to the Harvard Business Review, successful customer experience strategies result in enhanced customer satisfaction, reduced churn, increased revenue, and greater employee satisfaction. Organizations that install experiential operating systems also discover more-effective ways to collaborate across functions and levels, resulting in higher levels of innovation and engagement.
The event is scheduled from 8:00 a.m. to 10:00 a.m. For building access, registration is required by September 28. To register for the event, visit CXPA networking page. Additional information is posted at the group's Meetup page.
CXPA's Baltimore Network is the first organization in the state to pull together business leaders, marketers, human resources leaders, digital transformation experts, and culture change leaders around the business strategy of experience design.
For more information, contact ed@cravety.com or gregory.derwart@maryland.gov.
About the Customer Experience Professionals Association
Founded in 2011, the Customer Experience Professionals Association(CXPA) is the premier global non-profit organization dedicated to the advancement and cultivation of the Customer Experience profession.The CXPA supports the professional development of its members and advances the field by providing shared best practices and education, developing standards, offering networking opportunities, promoting the industry, and creating a better understanding of the discipline of Customer Experience.