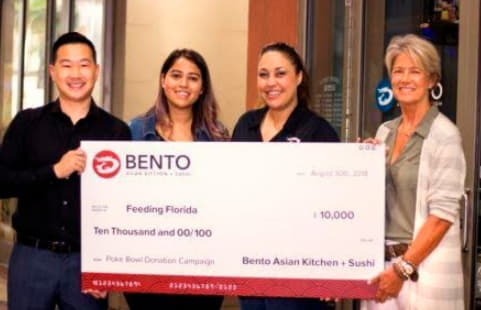 Left to Right: Johnny Tung, Bento Co-founder; Andre Rivas, Bento HR Director; Tammy Laney, Bento Operations Director; Robin Safley, Executive Director of Feeding Florida
Bento Asian Kitchen + Sushi, a popular, quick-casual pan-Asian restaurant, recently announced a statewide donation campaign to raise funds for Feeding Florida, a non-profit organization dedicated to bridging the meal gap in our state. With the goal of reaching $10,000, $1 from every build-a-poké purchase at all of Bento's nine locations across Florida went towards the campaign.
Poké bowls at Bento are made-to-order and customizable - allowing guests to "build" their own bowls from more than 40 ingredients including traditional items like tuna, salmon, shrimp, avocado and cucumbers to the more adventurous mango, pineapple or even fried garlic. Ingredients can be served on top of white or brown rice, mixed greens, or a combination of any two.
"Thank you to everyone who supported our Feeding Florida donation campaign this month. Our campaign launched on August 6 with the goal to help create greater awareness of hunger issues in Florida," said Bento co-founder Johnny Tung. "We are thrilled to announce that our $10,000 donation goal has already been achieved with over 10,000 poke bowls sold since the launch date."
Tung presented the $10,000 check to Robin Safley, executive director of Feeding Florida, on August 30 at Bento's downtown Orlando location.
"We are so appreciative of this generous donation from the Bento community to help Feeding Florida's statewide network of food banks ensure a healthy, adequate, and consistent food supply for our neighbors facing hunger," said Safley. "We could not continue to fight hunger without the generous support from our corporate partners."
Feeding Florida works to feed more than 3.5 million hungry Floridians every year, including 1.1 million children and 700,000 seniors. Their networks provide healthy, adequate and consistent food supplies to those in need.
BENTO Asian Kitchen + Sushi is an Orlando-based quick-service restaurant serving pan-Asian cuisine. With the intent to bridge the gap between the more traditional Asian dining experience, and the first-generation Asian-American palate, brothers Jimmy and Johnny Tung opened Bento Asian Kitchen + Sushi in the summer of 2002. Bento was born as a 2,000 square-foot, 40-seat restaurant in a freshly built plaza a few blocks west of the University of Florida in Gainesville.
Today, there are over nine locations across Florida, and a team of over 500 individuals. With plans of continued expansion on the horizon, Bento strives to remain true to the original vision - to present traditional Asian recipes in a colorful, fresh way - satisfying every appetite one roll, bowl and box at a time.