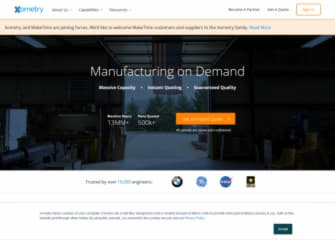 Xometry, the largest on-demand manufacturing platform, announced that it has acquired MakeTime, another leading on-demand manufacturing company. This acquisition brings together the country's two top manufacturing network platforms. The combined company will operate under the Xometry brand name and have offices in Maryland and Kentucky.
The acquisition will allow Xometry to grow its national partner network of manufacturers from 1,100 to over 2,300 while gaining MakeTime's enterprise product expertise and features including their Autodesk Fusion add-in and Shop Advantage program. Drura Parrish, MakeTime Founder and CEO, will join Xometry as Executive Vice President for Platform.
Foundry Group, one of MakeTime's investors, will lead a new $25MM round of funding for the newly combined company. Almaz Capital, BMW i Ventures, GE Ventures, Highland Capital Partners and Maryland Venture Fund will also contribute to the round. Xometry has now raised a total to date of $63MM.
"We're thrilled to combine Xometry's online manufacturing platform with MakeTime's proven success in building a distributed network of over 1,000 manufacturers," said Randy Altschuler, co-founder and CEO of Xometry. "This acquisition will provide our customers with access to massive capacity through the industry's largest distributed manufacturing network as well enhanced product features."
"We're excited at the prospect of joining forces with Xometry," said Drura Parrish, CEO and Founder of MakeTime. "We've both been building the future of manufacturing, and now we will be able to offer small- and medium-sized manufacturers access to more jobs, more opportunities for growth and advanced products to power their businesses."
Xometry has continued its rapid market expansion, recently eclipsing 10,000 customers spanning multiple verticals, including aerospace, automotive, consumer, medical devices and industrials. In the first five months of 2018, Xometry more than doubled both its revenues and bookings versus the same period in 2017. The company also recently launched a new version of the Xometry Instant Quoting Engine?, which provides instant quotes on uploaded CAD files.
Foundry Group's Seth Levine will join Xometry's Board of Directors. "We are thrilled to help Xometry capture greater share of the $80+ billion on-demand manufacturing marketplace," said Levine. "By combining both MakeTime's complementary technology and partner network to that of Xometry's, we can accelerate platform development and revenue growth to the benefit of both our customers and network partners."
About Xometry Xometry is transforming custom manufacturing through a proprietary software platform which offers on-demand manufacturing to a diverse customer base, ranging from startups to Fortune 100 companies. We provide product designers and engineers the most efficient way to source high-quality custom parts, with 24/7 access to instant pricing, expected lead time and manufacturability feedback. Our nationwide network of over 2,300 partner manufacturing facilities enables us to maintain consistently fast lead times while offering a broad array of capabilities, including CNC Machining, 3D Printing, Sheet Metal Fabrication, Injection Molding and Urethane Casting. Xometry has over 10,000 customers, including BMW, General Electric and NASA.
About Foundry Group Foundry Group is a venture capital firm focused on investing in early-stage information technology, Internet and software startups. In addition to providing the necessary venture capital to get a company up and running, Foundry Group is committed to leveraging their experience in starting and growing companies, expertise in the technology industry, and network of relationships to help great entrepreneurs turn great ideas into great companies. Foundry Group is based in Boulder, Colorado, and invests in companies located across the United States. For more information, visit www.foundrygroup.com.
About Maryland Venture Fund The Maryland Venture Fund is dedicated to funding and growing the next generation of outstanding businesses in Maryland. We are an experienced team with significant operating and venture experience whose focus is on making entrepreneurs successful. With more than $135M in assets under management, we partner with exceptional entrepreneurs and help them build valuable companies that last. For further information, please visit www.marylandventurefund.com