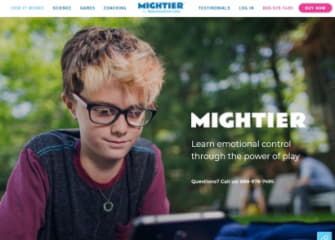 Mightier, a kids behavioral health company out of Boston Children's Hospital, announced the closing of another round of seed funding totaling $2.4 million led by Slow Ventures with additional investments from Bolt, Founder Collective, Project 11 and angel investors including veteran executives from TripAdvisor. Company seed funding now totals more than $3.7 million. Mightier was developed and tested over seven years at Boston Children's Hospital and Harvard Medical School to give kids a safe place to practice emotional control, develop coping skills, and build the emotional muscle memory they need to help respond to life's challenges. Kids wear a Mighty Band heart rate monitor as they play bioresponsive video games that respond to changes in heart rate in real time. As heart rates go up, the games get harder to play. The more kids learn to stay calm, the more they succeed.
The additional seed funding will be used to quadruple the size of Mightier's family member base. Funding will also be used to increase the platform's current offering of 15 video games to more than 25 games. Mightier is also currently conducting additional clinical research at Massachusetts General Hospital. To date, more than a million Mightier games have been played and more than a 100 million heartbeats have been recorded.
"We are thrilled to receive this additional funding from our investors, which will allow us to continue our mission of empowering kids struggling with emotional regulation and the families who love them," says Craig Lund, Co-founder, and CEO of Mightier. "We hear from families every day that kids often don't engage with traditional methods, including talk therapy. Kids learn about skills on a page in a workbook, but struggle to use these skills in life. For many of these families, Mightier can be a game changer. Our team of designers, clinicians, artists, and scientists work hard every day to keep kids having fun and building skills they can actually call on in the face of life's frustrations. We get in the trenches with parents to understand their kid's unique journey to help translate what's happening in the game to real life."
Three clinical trials at Boston Children's Hospital, Harvard Medical School, and Massachusetts General Hospital showed significant improvements in impulsive behaviors and household stress for kids with elevated levels of anger. After 12 weeks of the Mightier program, the participants saw a 62% reduction in outbursts, a 40% reduction in oppositional behaviors, and a 19% reduction in parent stress. Pilot trials in schools saw children three times better able to remain in classrooms.
Each Mightier Starter Kit comes with a Mighty Band heart rate monitor, Mightier app and library of games, six 30-min coaching sessions, an online hub to track your child's process and access to a private community of Mightier parents. Mightier works with top video game developers to create an extensive library of bioresponsive games that appeal to all ages and interest. The current library has 15 games, including two recipients of the Apple Editors Choice award and two games with more than 1 million downloads. Mightier has a 90-day money back guarantee.
For more information visit: www.mightier.com
About Mightier:
Mightier was founded in 2016 out of Boston Children's Hospital with the mission to help millions of kids discover their emotional strength. As a result of watching kids struggle with stress and emotional control every day at the hospital, Mightier co-founder Dr. Jason Kahn started building video games to treat behaviors associated with emotional dysregulation. After years of both inpatient and outpatient clinical testing and in-home pilot programs, Mightier commercially launched in July 2017. To date, more than a million Mightier games have been played. To find out more visit: www.mightier.com