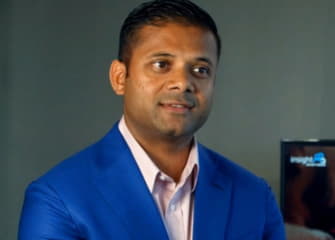 Founder & CEO of Insightin Health, a healthcare digital platform
Insightin Health, a digital health company that provides an AI-driven customer relationship management system for health plans, announced the launch of its platform and the closing of a $2 million seed stage financing round led by New York-based Health Catalyst Capital Management (HCCM). Insightin will use the financing proceeds to expand product development and drive sales and marketing initiatives. Local metro D.C. area investors in the round include Revolution's Rise of the Rest Seed Fund, TEDCO, SaaS Ventures, TCP Ventures and several angel investors. The angel group was led by Paul Silber, Founding Principal at Blu Venture Investors.
Founded in the fall of 2016, Insightin Health provides an IT platform that aids health plans in identifying and acquiring their best member prospects and then engages them in personalized content based on their social determinants. The company's AI-driven platform enhances health plans' member acquisition, retention, and engagement capabilities while minimizing churn and improving quality measure adherence.
"We're thrilled to have an all-star investor pool led by Health Catalyst Capital," says Enam Noor, Insightin Health Founder and CEO. "For the consumer, health insurance decisions are very personal and emotional, and the typical process is confusing and complex. Through our AI-driven platform, we simplify communications between the health plan and the consumer and provide relevant information at a personal level. It's time to start thinking outside the box to improve our healthcare system. We are excited to pioneer this effort by supplying cutting edge member engagement technology to our health plan clients."
"By investing in a dynamic young enterprise like Insightin Health, Health Catalyst Capital is furthering its mission of improving access to the healthcare system while lowering costs," says Charles Boorady, Founding Managing Director. "Finding new technologies that make health plans better able to find and serve their members is in our sweet spot as a fund. We are excited to partner with Enam and the team at Insightin as they better connect participants in the healthcare industry."
About Insightin Health
Insightin Health is a big data platform that centralizes and analyzes data, generating insights for building successful campaigns, good health plan ROI, and better healthcare experiences. The company's patented platform is designed to enhance health plan member acquisition, retention, and engagement, minimizing churn and improving measure adherence. The AI-driven decision engine allows health plans to develop one-on-one member engagement with personalized content. For more information on Insightin Health, visit https://www.insightinhealth.com.
About Health Catalyst Capital Management
Health Catalyst Capital Management is a New York-based venture capital firm that seeks to invest in entrepreneurial teams building high growth healthcare information technology businesses that make a positive social impact by improving patient access, outcomes and value. For more information, visit www.HealthCatalystCapital.com.