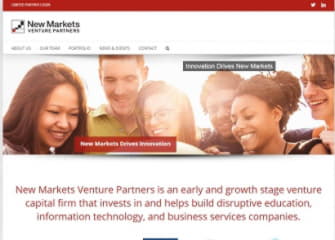 New Markets Venture Partners today announced the final close of NMEP II, a $68 million venture capital fund focused on education technology and innovation. The fund, which will invest in companies and organizations working across the education-to-employment life cycle, drew support from a diverse cross-section of strategic investors, including several publicly traded education and insurance companies, testing giant ACT, Strada Education Network, Lumina Foundation, and a number of other mission-oriented foundations, strategic investors and large family offices.
The launch of the new fund comes as the implementation of a new federal law is transforming the K-12 landscape, and shifts in the world of work are forcing employers and education providers to design new pathways to economic and career mobility.
"Our expanding team, strategic investors, and the impactful work of our portfolio companies increasingly provides us with a real opportunity to back entrepreneurs working to address skill and equity gaps," said Mark Grovic, Co-Founder and General Partner at New Markets. "We couldn't think of more important work to do than helping to scale solutions with the potential to drive sustainable economic mobility."
Over the last decade, New Markets has made more than twenty investments in education technology companies that serve over 19 million students, including 10 million at-risk students. The firm's portfolio companies have recovered thousands of high school dropouts, improved millions of student math scores, provided personalized and adaptive learning, managed classroom behaviors, and kept tens of thousands of students from dropping out of college. New Markets' companies have been reporting impact metrics on a quarterly basis since 2012, and many are noted for the award-winning efficacy of their products.
Mark Grovic, Jason Palmer, Robb Doub and Elizabeth Chou will serve as partners to NMEP II, which plans to invest $1-5 million per new investment into Series A, Series B and recapitalization rounds. The new fund plans to concentrate its investments on companies pushing the boundaries of digital learning, learning science, data and analytics, and pathways to workforce to significantly improve educational and career outcomes.
To date, NMEP II has already made seven investments. Higher education solutions include the science-based retention platform Motimatic; online program enabler Noodle Partners, and text messaging platform, Signal Vine. Workforce skills investments include credentialing leader Credly and skills analysis and matching platform Pairin. New Markets portfolio includes K-12 innovators including the school analytics leader LearnPlatform, school culture and social emotional provider Kickboard, professional development leader BetterLesson, accredited solution provider Calvert Education, online speech therapy leader Presence Learning, and alternative education and workforce leader Graduation Alliance. The firm is also an investor in Civitas Learning, Regent Education, Fishtree and StraighterLine.
"Executing on the promise of connecting talent to opportunity at scale requires smart capital with a genuine commitment to social impact, practical operational expertise, and a trusted network of potential partners and customers. Credly is privileged to access all three through New Markets," said Jonathan Finkelstein, CEO of Credly which recently acquired Pearson Acclaim.
Over the past six years, eight New Markets companies have had successful exits including Questar (acquired for $127.5M by ETS in 2017), Starfish Retention Solutions (acquired by Hobson's), Moodlerooms (acquired by Blackboard), ThinkThrough Learning (acquired by Imagine Learning), and Practice (acquired by Instructure). According to Cambridge Associates, New Markets 2008/9 fund ranks in the top quartile of all venture capital funds nationwide in terms of cash distributions to paid in capital for its vintage year.
"Investing in innovation is central to our mission of helping people achieve education and workplace success," said Marten Roorda, Chief Executive Officer of ACT. "We are inspired by both the impact of technology and a growing community of entrepreneurs working to address some of our most vexing challenges across the student life cycle. Our investment with New Markets is designed to support businesses that are making an impact by allowing them to invest in critical efficacy research and to attract strong teams needed to scale."
About New Markets Venture Partners
New Markets Venture Partners is a venture capital firm that invests in and actively assists education, information technology, and business services companies. The New Markets Team has decades of experience investing in and building high growth companies through deep relationships with centers of education and workforce innovation. New Markets prides itself on adding value to our portfolio companies before, during and after the investment process.