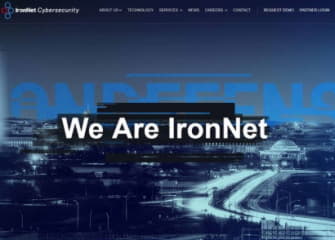 IronNet Cybersecurity, a leading provider of state-of-the art cybersecurity solutions, announced significant advancements in the adoption of its IronDome and IronDefense products as well as a major Series B investment round totaling $78 million in new funding.
The investment was led by new investor C5 Capital, and joined by existing blue-chip Silicon Valley venture capital firms ForgePoint Capital (formerly known as Trident Capital Cybersecurity) and Kleiner Perkins. The new round provides IronNet with a valuation well above its prior round raised in September 2015. The new funds will be used to support IronNet's strategic growth and to continue accelerating the development and adoption of its industry-leading cybersecurity solutions.
In announcing the funding round, IronNet also announced for the first time publicly the standup, effective late last year, of its proprietary IronDome collective defense system by nearly a half-dozen multi-state energy sector providers covering well over a dozen operating subsidiaries across more than two dozen states. IronDome is providing this key sector of national critical infrastructure with automated, real-time sharing of cyber event data and analysis between all of its participating energy company partners, which together provide energy service to half of the country.
IronNet also announced that its IronDefense platform has obtained key customers in the financial and energy sectors including a large custodian bank, a prominent hedge fund, and the energy companies participating in IronDome.
The new funding announced today will allow IronNet to accelerate its efforts and to stand up additional IronDome collective defense systems in the financial and healthcare sectors, as well to expand internationally in key areas on the front lines of the cyber threat, including Europe, Asia, and the Middle East. This acceleration and expansion effort will help address and reduce risk related to the very real threats these sectors and countries face from highly capable adversaries, including nation-states.
"As we look to defend our estate as it integrates with various cloud environments, we were impressed by IronNet's capabilities, especially in side by side testing with other analytic and detection platforms in the market today," said Richard Puckett, VP for Security Operations, Strategy & Architecture at Thomson Reuters, the world's leading source of news and information for professional markets. "We're pleased to be working with IronNet on their next-generation cyber initiatives, including more real-time collective defense models."
IronNet, founded by Gen. (Ret.) Keith Alexander, the former Director of the National Security Agency and Founding Commander of U.S. Cyber Command, and a distinguished team of national security and private sector cyber leaders, is focused on building products to reduce cyber risk and protect nations and industries from the most advanced cyber threat actors.
"This investment represents a clear endorsement of our core technology and strategy for defending nations and industries around the world," said Gen. Alexander, IronNet Founder, CEO, and Chairman of the Board. "We look forward working closely with our new investors joining us in this funding round to continue to rapidly innovate and expand our efforts in this critically important national security arena."
"It is apparent to all of us that the threats enterprises face will continue to evolve in a way that traditional solutions are not able to cope," said Marcos Battisti, Managing Partner of C5 Capital. "IronNet's platform is the only scalable solution in the market providing a truly holistic protection to today's constant and ever-changing attacks."
"We welcome C5 Capital to the investor group," said Don Dixon, Founder and Managing Director of ForgePoint Capital and member of the IronNet board of directors. "C5, based in London, brings strong relationships to help the company grow in Europe and the Middle East."
"Strengthening our cyber defenses is vital as our enemies accelerate in technological capability and impact," said Ted Schlein, general partner at Kleiner Perkins. "IronNet has established a new standard for cybersecurity solutions with its strong leadership and advanced cyber infrastructure for detecting – and combating – increasingly sophisticated cyber threats. We are excited for the IronNet team as they continue expanding on the initiatives and products to better defend ourselves and our allies."
About IronNet Cybersecurity
IronNet Cybersecurity's founding mission is to redefine cybersecurity based on next generation technology, cutting edge engineering, and a leadership team with decades of military, intelligence, and commercial experience.
Founded by General (Ret.) Keith Alexander and a team of highly experienced strategic, operational, and technical cybersecurity experts, the company's goal is to "continue the mission" of securing the nation in cyberspace based on the leadership team's experience in conducting full-spectrum cybersecurity operations and building cybersecurity forces.
IronNet provides best-in-class cyber defense using complex behavioral modeling, big-data analytics, and advanced computing capabilities to deliver unprecedented network visibility, early threat detection, and targeted, business-informed mitigation actions and also provides for collective defense by sharing and correlating threat and event data across multiple companies and sectors.
IronNet's IronDefense product provides massive-scale behavioral detection, unmatched visibility, risk prioritization, and packet level threat hunting through an intuitive user interface to alert organizations when their environment is at risk. It identifies a broader range of malicious activity with greater confidence than competitor products and it does so on a platform designed for enterprise-scale deployment, at the speeds today's defense demands. IronDefense is the foundation for defending a company, department or agency.
IronNet's IronDome technology provides machine speed sharing of events to deliver industry-level threat insights and situational awareness without human involvement. This enables unprecedented visibility of industry-wide malicious activity, allowing member companies to identify stealthy activity and industry targeted campaigns that would be difficult to identify by any single company working in isolation.
Together, IronNet's patented products provide advanced persistent defense against sophisticated attacks. For more information, visit ironnetcyber.com and follow us @IronNetCyber.
About C5 Capital Limited
C5 Capital Limited is a global venture capital firm investing in Secure Data Ecosystems. Investing in cyber security, cloud computing, data analytics and artificial intelligence. C5 has offices in Washington, London, Munich, Luxembourgand Bahrain. For more information, visit c5capital.com and follow us @c5capital.
About ForgePoint Capital (formerly Trident Capital Cybersecurity)
ForgePoint Capital is a $300 million fund exclusively investing in cybersecurity companies. The firm brings deep industry expertise and a strong network of relationships. ForgePoint Capital's 50-person Cybersecurity Advisory Council includes industry CEOs, security entrepreneurs, senior information security executives, and former government security leaders. In addition to IronNet Cybersecurity, the firm's portfolio companies include 4iQ, Attivo, Appthority, Bayshore Networks, BehavioSec, CyberCube Analytics, ID Experts, Prevoty, and ReversingLabs. The firm's principals have been investing in cybersecurity since 1998 and have made a total of 35 cybersecurity investments. For more information, visit forgepointcap.com and follow us @tridentcapital.
About Kleiner Perkins
Kleiner Perkins partners with the brightest entrepreneurs to turn disruptive ideas into world-changing businesses. With $10 billion raised through 20 venture funds and four growth funds, the firm has invested in over 850 companies including pioneers such as Google, App Dynamics, Amazon, Flexus Biosciences, Nest, Waze, Twitter, JD.com and Square. Kleiner Perkins offers entrepreneurs years of operating experience, puts them at the center of an influential network, and accelerates their companies from success to significance. For more information, visit kpcb.com and follow us @kpcb.