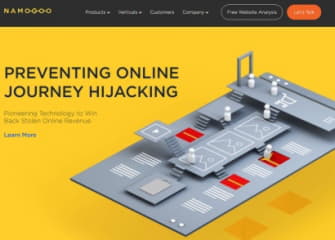 BOSTON--(BUSINESS WIRE)--Namogoo, a company that enables online businesses to deliver a distraction-free customer journey, today announced it has raised $15 million in its Series B funding round led by Hanaco Venture Capital. Alon Lifshitz, general partner at Hanaco, will join the Namogoo board. Existing investors GreatPoint Ventures, Blumberg Capital and Inimiti Capital also participated in the round. This brings the company's total funding to $29 million.
Namogoo is the first and only company to identify and solve a problem costing online businesses millions in stolen revenue each year – Online Journey Hijacking. By eliminating unauthorized ads and invasive content from disrupting the customer journey, Namogoo consistently increases conversion and revenue for global online businesses like TUMI and ASICS. The funds raised in its Series B will be used to drive adoption of its Customer Hijacking Prevention solution and to accelerate the growth of Namogoo's new product, Digital Insights. Digital Insights analyzes all third-party services running on publisher sites and provides full visibility into their impact on site performance, privacy and business KPIs.
"Since its inception, Namogoo has successfully implemented its Customer Hijacking Prevention solution at more than 50 online global mega brands, helping them win back the revenue being stolen from their websites," explained Lifshitz. "Based on the team's success in educating the eCommerce market on an unknown problem and its impressive traction with huge consumer brands, we anticipate Namogoo's technology becoming an indispensable tool in the future of eCommerce."
Digital Insights expands Namogoo's client-side platform offering and introduces a disruptive solution to problems that affect websites across verticals. "Running on end-user browsers, our platform reveals the true impact of third-party services on the user experience and provides online publishers with unprecedented visibility into what's actually running on their sites," said Ohad Greenshpan, co-founder and CTO of Namogoo.
The world's largest brands across verticals such as eCommerce and online marketplaces, travel, online insurance, fintech and publishing, rely on Namogoo's proprietary Machine Learning solutions to preserve the online customer experience and consistently enhance key business metrics.
"We have achieved significant milestones in 2017, including establishing our U.S. headquarters, more than doubling our team and significantly growing our customer base," said Chemi Katz, co-founder and CEO of Namogoo. "This financing round enables us to further accelerate our expansion into new markets and verticals with solutions that positively impact site performance and give brands back control of the journey they've designed for their customers."
About Namogoo
Namogoo helps online businesses and publishers enhance customer journeys and business results. With over 500 million web sessions analyzed each day, Namogoo's disruptive client-side platform enables online businesses to deliver a distraction-free user experience by blocking unauthorized product ads injected into consumer web sessions and gaining full visibility and intelligence over all third- and fourth-party services running on their site. The world's largest online brands rely on Namogoo to gain control over their online customer experience and consistently improve business metrics. For more information, visit www.namogoo.com and follow Namogoo on Twitter, Facebook and LinkedIn.