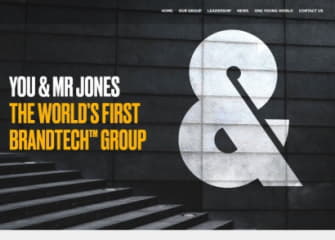 Traackr, the influencer relationship management platform, today announced it has raised $9 million in Series B funding led by Workhorse Capital, with participation from You & Mr Jones and existing investors.
In 2017, 86 percent of marketers reported using influencer marketing, but measuring the ROI of influencer programs was the top challenge facing marketers. Traackr's data-driven software solution enables global brands to scale influencer programs by consolidating discovery, management and performance analytics all in one system. Through targeted searches and customizable analytics, marketers are able to identify and partner with more relevant influencers to win the hearts and minds of their customers.
"Influencer marketing has become so important today but most businesses are still not approaching it at an enterprise level," said Pierre-Loïc Assayag, founder and CEO of Traackr. "That's what we deliver with Traackr, a technology platform and system of record that allows major global brands to manage, expand, validate and scale their influencer marketing and ultimately deliver a better ROI."
Global brands such as Microsoft, L'Oreal, SAP, Travelocity, Honda and the Coca-Cola Company already use Traackr to structure and grow their influencer marketing programs across departments and geographies.
"Influencer marketing is one of the key pillars of our digital transformation to build 'love brands.' It requires agility and real-time data," said Marc Duquesnoy, Social Media Performance Director, Global CDO Team, L'OREAL Group. "The influencer landscape is transforming every day – like the rise of fake followers and inauthentic profiles – which can make analyzing influencer marketing effectiveness increasingly difficult. We trust Traackr's solution, as their platform provides the real-time intelligence we need to activate beauty influencers who resonate the most with our fans."
Traackr will use this round to fuel sales, marketing and customer success across the globe, with over 80 percent of current revenue coming from Fortune 1000 companies/industries. Increasing the depth of data and range of platforms covered will also be a priority for Traackr's product and engineering teams.
"We're excited about our company building partnership with the Traackr team," said Dave McLean, co-founder and General Partner at Workhorse Capital. "We are drawn to rapidly growing and fiscally disciplined SaaS businesses like Traackr that solve fundamental problems for their customers. We embrace the opportunity to roll up our sleeves, supporting the Traackr team in pursuit of their goals."
Strategic partner You & Mr Jones, a brandtech group, adds Traackr to its roster of visionary technology company investments – such as the Amplify, Pinterest, Niantic (creator of Pokemon Go), MOFILM, Gyfcat and Zappar – revolutionizing how brands connect with people.
"We're very big believers in people-powered marketing and in particular the power of influencer marketing," said David Jones, founder and CEO of You & Mr Jones. "Traackr is unique as they have built a fantastic SaaS platform that makes the discovery, management and measurement of influencer relationships seamless while using data to help quantify the impact of those relationships across the customer journey. They are a great fit with the other influencer businesses in our portfolio, and we're excited to be part of their journey."
To date, Traackr has raised a total of $14.4 million, including financing from original investors.
"We are very fortunate to have found the team at Workhorse Capital, who understand our customer-focused approach, recognize that we've achieved a great deal in a short period of time-and recognize the team's ability to grow the business exponentially, on a global scale," said Robbie Vann-Adibé, chairman of the board, Traackr. "With the addition of You and Mr Jones as strategic investors, who truly understand the seismic shifts technology is driving in the world of marketing, we feel that we have a group able to take the business to substantial new heights."
About Traackr
Traackr builds influencer relationship management technology that enables brands to effectively manage, measure and scale influencer strategies, while cutting through the noise on social media. The platform gives CMOs and their teams the ability to partner with influencers along the customer journey, impacting buying decisions through trustworthy and authentic conversations. Traackr powers influencer marketing programs for beloved global consumer and B2B brands, such as L'Oréal, The Coca Cola Company, Microsoft, Intel and SAP. Traackr is an international company with offices in San Francisco, Boston, New York, Paris and London.
About Workhorse Capital
Workhorse Capital is a Denver-based growth equity firm that invests in bootstrapped software and technology-enabled services companies. Workhorse is an intellectually-engaged partner with management teams who aspire to accelerate the organic growth of their already successful business. For more information, please visit workhorsegrowth.com
About You & Mr Jones
You & Mr Jones, the majority owner of Mofilm, is the world's first Brandtech group. Its mission is to help businesses build brands better, faster, and cheaper using technology.
It was founded in June 2015 by former Havas Global CEO and Facebook Client Council founding member David Jones. You & Mr Jones sits at the intersection of the dramatic growth in mobile, a tech revolution that has empowered people to create, produce and share unprecedented amounts of content, the impending revolution in AI, AR, and VR, and frustrated global companies looking for brand- and tech-literate partners, and have acquired 5 companies, invested in 18 and launched two start-ups.
Group clients include Airbnb, Netflix, Facebook, Accenture, Unilever, Google, Sony, Coca-Cola, Coty, Richemont, Emirates, Mastercard, Diageo, Danone, Samsung, AXA, Orange, Renault, Ferrero, Lacoste, BNP Paribas, Europcar, and Total.
You & Mr Jones is headquartered in New York and has offices in 12 cities including San Francisco, London, Bangalore, Sao Paulo, Los Angeles, Shanghai, Sydney, Mexico City, Cape Town, Hong Kong, and Paris.