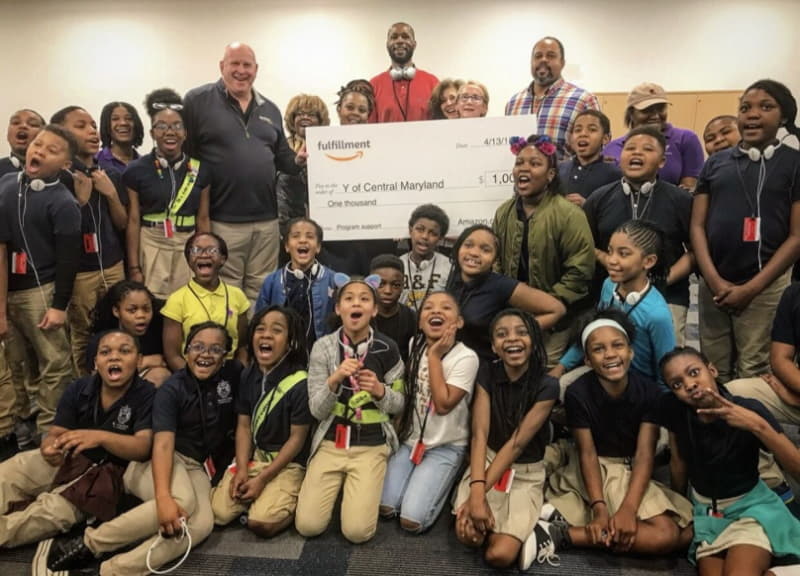 On Friday, April 13, in celebration of National Robotics Week, Amazon hosted a "Day at Amazon" at its Baltimore fulfillment center for the Y in Central Maryland and more than 100 students from four local public schools, Holabird Middle School, Walter P. Carter Middle School, Forest Park High School and Moravia Elementary School, that are all Y Community Schools. Amazon provided student tours with a firsthand view of robotics in action followed by STEM activities and surprise STEM donations to each tour group.
The students who attended a "Day at Amazon" have an interest in robotics and participate in the Y's after-school enrichment programming, which includes Y STEM, Robotics Club or Next Generation Scholars.
"We are thrilled to see the level of enthusiasm and curiosity students have for robotics and STEM," said Shan Byrne, Director of Operations for Amazon's Baltimore fulfillment center, "At Amazon, technology and innovation fuel our business, and we recognize that the jobs of tomorrow require a stronger aptitude for STEM skills. That's why we're proud to support STEM education programs that are inspiring our next generation of innovators."
Byrne said students asked thought-provoking questions on the tour and were clearly correlating what they are learning at school to the innovative, real-life operations they observed at Amazon.
"We are deeply appreciative to Amazon for making this very special experience possible. It's an excellent way to show young people real world career possibilities open to them given their interests in robotics and STEM. This is especially important for children who have limited opportunities to see the world beyond their own neighborhoods. What a perfect example of corporate commitment to the community," said John Hoey, President & CEO of the Y in Central Maryland.
Following the tours, Amazon donated $1,000 to the Y in support of its charitable mission, along with a donation of $5,000 in STEM educational items, such as Kinex, Codemasters, Sphero robots, 3D printers and other equipment, to the individual schools.