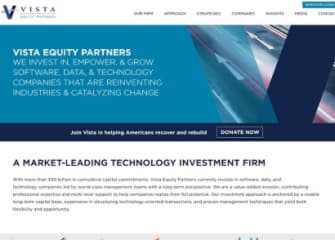 SANTA BARBARA, CA, (BUSINESS WIRE) April 17: LogicMonitor, the leading SaaS-based monitoring platform for hybrid IT infrastructures and cloud services, today announced that it has signed a definitive agreement to be acquired by Vista Equity Partners, a leading private equity firm focused on software, data, and technology-enabled businesses. The investment continues Vista's focus on acquiring best-in-class software businesses, providing mission-critical solutions to customers. Existing owner Providence Strategic Growth will retain a minority ownership stake in LogicMonitor moving forward.
"Vista enables some of the most impactful software companies on the market today to grow quickly while expanding innovation," said Kevin McGibben, Chief Executive Officer at LogicMonitor. "Our platform delivers real-time performance visibility to IT operations so global enterprises, managed service providers, and modern web technology companies can scale to deliver superior products and services. This investment by Vista endorses the leadership position we've built to date, and provides us with an incredible opportunity to leverage their intellectual capital and portfolio of resources to continue to scale our own business," said McGibben.
Headquartered in Santa Barbara, California, LogicMonitor has a Global Center of Customer Excellence in Austin, and offices in London, Boston, Singapore and Chengdu. LogicMonitor joins Vista with strong momentum and significant market opportunity as business and IT leaders increasingly require speed, flexibility, and actionable insights to succeed in today's competitive markets.
"LogicMonitor's differentiated and high ROI solution is uniquely positioned to support complex corporate IT environments," said Alan Cline, Principal at Vista Equity Partners and Co-Head of the Vista Foundation Fund. "We are thrilled to be partnering with the LogicMonitor team to further accelerate its product investment and its rapid growth trajectory as it supports companies that monitor increasingly complicated cloud and hybrid environments."
"Since our investment in 2016, LogicMonitor has solidified its position as the industry leader in SaaS-based IT Infrastructure Monitoring, and PSG is excited to partner with Vista to support LogicMonitor's next phase of growth," said Thomas M. Reardon, Managing Director, Providence Strategic Growth.
Gartner predicts more than 20.4 billion devices will come on-line by 2020, greatly increasing the need for a solution that can monitor their performance in real-time, and alert IT teams to potential outages and disruptions. With integrations to key business applications such as ServiceNow and Atlassian, the LogicMonitor platform simplifies workflow and time to resolution. LogicMonitor includes out-of-the-box coverage for thousands of technologies across the IT stack including Cisco, Kubernetes, NetApp, and VMware, offering granular visibility across the IT and application infrastructure anywhere these resources sit– on premises, in the data center, or in the cloud.
The transaction is expected to close in the second quarter of this year. Financial terms have not been disclosed. William Blair served as the exclusive financial advisor to LogicMonitor and Evercore served as the financial advisor to Vista. Weil, Gotshal & Manges LLP served as legal advisor to PSG and LogicMonitor, and Kirkland & Ellis served as legal advisor to Vista.
About Vista Equity Partners
Vista Equity Partners, a U.S.-based investment firm with offices in Austin, San Francisco, Chicago, and Oakland with more than $31 billion in cumulative capital commitments, currently invests in software, data and technology-enabled organizations led by world-class management teams with long-term perspectives. Vista is a value-added investor, contributing professional expertise and multi-level support towards companies' realization of their full potential. Vista's investment approach is anchored by a sizable long-term capital base, experience in structuring technology-oriented transactions, and proven management techniques that yield flexibility and opportunity in private equity investing. For more information, please visit www.vistaequitypartners.com.
About LogicMonitor
LogicMonitor is the SaaS-based, performance monitoring platform for Enterprise IT. With coverage for thousands of technologies, and integrations with key business applications, LogicMonitor provides granular visibility into infrastructure, cloud and application performance across hybrid and cloud infrastructures. LogicMonitor's automated device discovery, preconfigured alert thresholds and rich, customizable dashboards, come together to give IT teams the speed, flexibility and actionable insights required to succeed in today's competitive markets. For more information, please visit www.logicmonitor.com.
About Providence Strategic Growth
Providence Strategic Growth Capital Partners L.L.C. is an affiliate of Providence Equity Partners L.L.C. ("Providence"). Established in 2014, PSG focuses on growth equity investments in lower middle market software and technology-enabled service companies, primarily in North America. Providence is a premier, global asset management firm with more than $54 billion in capital under management across complementary private equity and credit businesses. For more information on PSG, please visit www.provequity.com/private-equity/psg, and for more information on Providence Equity, please visit www.provequity.com.