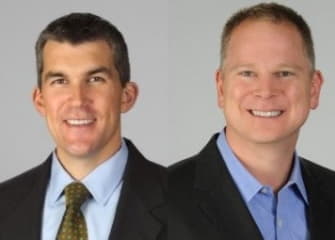 Mark Flickinger and Todd Knudsen
BIP Capital, one of the most active and successful venture capital firms in the Southeast, announced the promotion of two internal leaders into new roles. Mark Flickinger is now the firm's chief operating officer and Todd Knudsen now serves as chief financial officer. These promotions come at a time of significant expansion for the firm, which had impressive growth in its portfolio of investments, assets under management and the size of its team in 2017.
"The Southeast's venture system has evolved rapidly over the past decade," said BIP Capital CEO Mark Buffington. "Atlanta in particular offers a uniquely rich innovation ecosystem. At BIP Capital, we're proud to be deepening and expanding our operations to continue to support entrepreneurs across the Southeast. Both Mark and Todd demonstrate the vision, experience and tenacity that define our team."
Most recently a vice president at BIP Capital, Mark Flickinger has a proven track record of success leading and executing projects in both large and small companies. In a previous role at Intertek, he developed and executed a comprehensive plan for growth encompassing four consulting business units, resulting in year-over-year growth of 40 percent. He is currently a board member of the BIP Capital portfolio company AchieveIt, which recently raised a $1.7 million Series E-1 investment and broke into the ranks of the 2017 Inc. 500.
Todd Knudsen joined BIP Capital as vice president of Finance in 2016. Prior to that, he served as chief financial officer at Chatham Capital, a private equity firm with over $435 million in assets under management. He also held roles as CFO and head of credit for FTRANS Corp., a VC-backed specialty finance company, and as vice president at Wachovia Bank, where he managed a $925 million portfolio. He also worked at Arthur Andersen, where he performed audit and consulting services for both public and private companies.
About BIP Capital
BIP Capital is recognized as one of the most active and successful venture investors in the Southeast, serving entrepreneurs, investors and operators to grow the emerging company ecosystem. The firm applies experience and process to make investment decisions and operational recommendations, allowing its portfolio companies to achieve and stay on a glide path of growth. Areas of focus include Enterprise SaaS, Healthcare IT, Digital Media, Dev Tools and MarTech. For more information, visit www.bip-capital.com or follow BIP Capital on Twitter @BIPCapital.