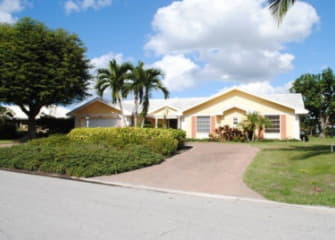 Great Jones, the only full-service residential property management company that combines deeply experienced local teams with cutting-edge technology, today announced the completion of an $8 million Series A financing round. Crosslink Capital led the round with participation from Juxtapose and several New York City real estate and technology entrepreneurs, including Floored founder Dave Eisenberg, Seamless founder Jason Finger, and serial entrepreneurs Kevin Ryan and David Rosenblatt.
Headquartered in New York City with local property management teams in Florida, Great Jones is rebuilding residential property management for the digital age by bringing together its local property management teams with proprietary technology to provide a seamless, full-service experience for owners and residents. In doing so, the company aims to make ownership worry-free and more profitable for the 25 million Americans who own rental homes.
"Rental real estate is an absolutely massive market that has incredible economics, but it has historically been inefficiently run, offline and local," said Omar El-Ayat, Partner at Crosslink Capital. "It is primed to be brought into a much more modern, data-driven era by a team that really understands the space itself -- including a unique understanding of what owners and residents truly covet: ease. We are excited to be a part of their vision to create a modern property management system for modern times."
The company, which launched in late 2017, is already providing full-service property management for hundreds of single-family and multi-family homes in Greater Tampa, Orlando, and Southwest Florida, with plans to launch additional markets nationally over the next three years. With local property management teams and a high-tech platform, the company handles everything associated with renting property, including property marketing, tenant screening, rent collection, issue resolution, maintenance management & advice, property inspections, lease renewals, financial reporting, legal compliance, and entry or exit strategy.
Leveraging mobile communication tools, real-time data, and steep discounts from highly-vetted vendors, Great Jones makes decisions like an owner would, saving customers time and thousands of dollars per year by streamlining decisions and minimizing costs. Tenants simply use online tools to log requests, which are then routed through the Great Jones team to pre-vetted vendors for fast, high-quality resolution. The Great Jones platform provides updates and gives owners insight into the management of their homes anytime, anywhere, while tracking data to make future problem-solving even more effective.
"By building a company to seamlessly and transparently manage a portfolio of dispersed, brick-and-mortar homes, we're allowing owners to realize investment upside without the headaches, while at the same time improving service to residents," said Jay Goldklang, CEO and co-founder of Great Jones. "We believe that by removing the friction associated with rental ownership and providing a more hands-off, modern solution, we can unlock this asset class and let more and more current and prospective owners make better investment decisions, unconstrained by logistics or geography."
This new round of funding enables Great Jones to accelerate the expansion of its technology and service platform, continue expanding its local property management teams, and invest in customer acquisition within current and future markets. The company's combination of local service with a centralized operations team and innovative technology platform allows it not only to provide better service, but also scale across multiple markets.
The company was founded by Jay Goldklang, David Diaz, and Abigail Besdin, technology and real estate veterans who bring extensive experience in digital product, physical operations, property management and scaling high-growth companies to the Great Jones team.
About Great Jones
Based in New York City with local property management teams in Florida, Great Jones was founded in 2017 to bring a modern approach to residential property management, specializing in single-family and multi-family homes. The company is the only full-service residential property management company that combines deeply experienced local teams with cutting-edge technology, aiming to provide 25 million American rental owners with higher profits and fewer headaches. Learn more about Great Jones and its innovative property management solutions at www.greatjones.co.