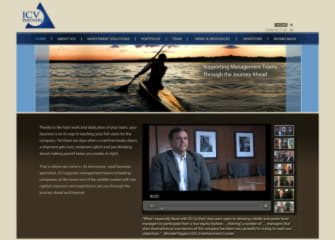 ICV Partners, LLC, a leading investment firm focused on middle market companies, today announced the acquisition of Outpatient Imaging Affiliates, LLC, a leading provider of outpatient radiology services in partnership with leading health systems across the country. ICV acquired OIA from the company's founder, Frank Kyle and MedCare Investment Funds, a privately held family office.
The ICV team will work closely with Cannon King, President and Chief Executive Officer of OIA, who has been instrumental in growing OIA from a startup company to one of the nation's most well-regarded outpatient imaging companies. He will continue as CEO and will work with ICV to implement their aggressive growth strategy.
Headquartered in Franklin, TN and founded in 2000, OIA today has over 30 locations in over nine states in the Southeast, Mid-Atlantic and Midwest. Ten locations are wholly-owned by OIA, 19 are joint-ventures with health system partners and the remaining locations are where the company has a management and billing contract. OIA partners with healthcare providers such as health systems, academic medical centers, and radiology groups to develop, market and operate quality, patient friendly, service-oriented outpatient imaging centers. OIA centers range from single to full-modality facilities offering PET/CT, MR, CT, ultrasound, mammography, nuclear medicine, bone densitometry (DEXA) and plain film X-ray procedures.
Mr. King, said, "ICV has successfully invested in healthcare companies similar to ours, they understand our business model, and their experience will be extremely valuable as we seek ways to enhance and broaden our imaging centers."
Ira Moreland, Managing Director of ICV, said, "This investment in OIA is consistent with our strategy of partnering with high quality management teams in industries we know well and solidifies our investment focus in the healthcare sector. OIA has a successful track record of partnering with healthcare providers and integrating new facilities into its network. OIA is now well-positioned as a platform investment and because of the fragmented nature of the industry we will be able to tap into a rich pipeline of opportunities as we execute strategic acquisitions into new geographic regions and existing markets as we pursue further growth and, at the same time, identify new ways to provide the highest quality patient care."
Previous healthcare investments made by ICV include American Alliance Dialysis Holdings, LLC, provider of dialysis services in Puerto Rico, and Interventional Management Services, one of the largest providers of interventional pain management services in the Atlanta metropolitan market.
DLA Piper served as legal counsel to ICV. Canaccord Genuity served as financial advisor to the sellers and Bradley Arant provided legal counsel.
About ICV Partners
Founded in 1998, ICV Partners is a leading private investment firm that supports management leaders of strong middle market companies. Over its first three funds, the principals of ICV have crafted a strong track record of helping companies expand their footprint and improve performance over the long term and across a variety of industries. Additional information is available at www.icvpartners.com.