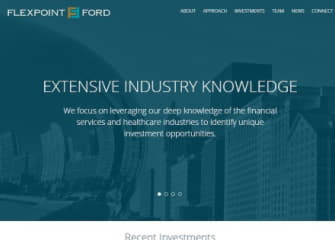 Flexpoint Ford, LLC, a private equity firm focused on the financial services and healthcare sectors, today announced the completion of the sale of their stake in CFGI to The Carlyle Group, a global alternative asset manager. CFGI is a specialized accounting and financial consulting firm that provides a range of routine and complex solutions to corporate CFOs nationwide.
Founded in 2000 by former "Big Four" professionals, Nick Nardone and Shane Caiazzo, CFGI is an established industry leader with the resources to successfully navigate today's complex accounting, reporting, tax, and compliance landscape. An assemblage of top-flight professionals with in-depth public accounting expertise, CFGI is able to fulfill a variety of client needs without the restrictions of auditor independence. Representative projects for CFGI include IPO readiness, implementation of new accounting standards, tax advisory among many other complex accounting solutions for clients in all industry sectors. Over the past several years, CFGI has rapidly expanded its team of professionals and geographic footprint as it has built a national advisory business focused on the most pressing needs of CFOs.
Co-Founders and Co-CEOs Nick Nardone and Shane Caiazzo, commented, "Flexpoint has been a collaborative and value-added partner to CFGI. During our time with Flexpoint, we've grown from a largely regional business to a rapidly expanding national platform with offices on both coasts and clients nationwide. We thank Flexpoint for their support and their shared dedication to the quality and expertise that define the CFGI offering. We are proud to move forward with The Carlyle Group as our new partner and excited for the relationships and resources that we expect to come with the Carlyle global network. Our focus for the firm is to aggressively work each and every day to become the go-to partner for all CFOs, CAOs, and Controllers across the nation."
Chris Ackerman, Managing Director of Flexpoint, said, "It's been a pleasure to work with Nick, Shane and the CFGI Partner group and watch the evolution of the company over the past four years; we thank the CFGI team for their tireless effort and drive during this period. By executing their office expansion and growth strategy, CFGI has become the go-to solution for thousands of CFOs and Controllers on a nationwide basis and has delivered an excellent return for our investors, exceeding our high expectations. We are confident that CFGI will continue to strengthen what is already a world-class consulting firm and that their new partnership with Carlyle will position the company for future growth."
Robert W. Baird & Co. and Stifel, Nicolaus & Company served as financial advisors and Kirkland & Ellis LLP and Nelson Mullins Riley & Scarborough LLP served as legal advisor to CFGI on the transaction.
About CFGI
CFGI is a unique and highly specialized financial consulting firm that is strategically positioned to help companies through a range of routine and complex business scenarios. As an extension of corporate finance teams, CFGI works alongside internal staff, serving in a variety of roles – from technical accounting advisor to M&A support to Controller or CFO – and delivering seamless support services. For more information about CFGI, please visit www.cfgi.com.
About Flexpoint Ford

Flexpoint Ford is a private equity investment firm that has raised over $2.3 billion in capital and specializes in privately negotiated investments in the financial services and healthcare industries. Since the firm's formation in 2005, Flexpoint Ford has completed investments in over 30 companies across a broad range of investment sizes, structures and asset classes. Flexpoint Ford is headquartered in Chicago, Illinois. For more information about Flexpoint Ford, please visit www.flexpointford.com.