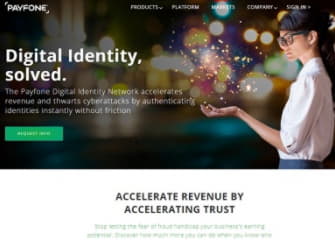 Payfone, the world's leading digital identity authentication network, today announced that it has raised $23 million to expand its user experience-enhancing cybersecurity services in the retail, insurance, and healthcare sectors. The funding round was led by an institutional investor with participation by premier consumer financial services company Synchrony Financial (NYSE: SYF); MassMutual Ventures, the venture fund of leading mutual life insurance company Massachusetts Mutual Life Insurance Company (MassMutual); Anil Aggarwal and Jonathan Weiner, the founders of Money20/20, Shoptalk and HLTH; and Andrew Prozes, the former global CEO of LexisNexis. The financing reinforces Payfone's position as a new standard of digital identity authentication that enables enterprises to combat fraud, while enhancing the customer experience to accelerate revenue.
"Our research shows that by 2020, 2/3 of e-commerce sales will be conducted by adults under 40. This next wave of customers will be mobile-first and will expect transactions to be both fast and secure," said Rodger Desai, Founder and CEO of Payfone. "The days of using quizzes, questions and one-time codes to verify identity are numbered. Payfone is ushering in a new world where authentication is instant, passive and continuous using the most advanced cybersecurity. Our mission is to help clients across the financial, retail, insurance, healthcare, and technology industries use authentication to not only thwart fraud but drive revenue."
Click here to see Payfone's conversion-boosting Identity Pre-Fill solution in action.
"Synchrony is committed to exploring emerging technology to better serve our partners and customers," said Michael Hensinger, SVP and Senior Managing Director, Synchrony Ventures. "Our investment in Payfone enables Synchrony to deliver innovative mobile authentication solutions that will continue to improve the customer experience. We are excited to work with the Payfone team and continue our focus on eliminating friction from the authentication process for our customers."
Related News: Payfone Partners with O2 to combat cyberfraud in the UK
"A positive customer experience doesn't begin with a verbal identity challenge," said Eric Emmons, managing director at MassMutual Ventures. "Payfone enables service providers across the financial, retail, insurance, healthcare and technology sectors to offer a frictionless mobile and online experience to their customers, which substantially improves conversion rates and dramatically reduces the cost of call center operations."
Payfone's contrarian approach to delivering cybersecurity that enhances the customer experience instead of hindering it has been adopted by many of the world's largest companies, including 6 of the top 10 banks in the United States. In November, Payfone was named the #72 fastest growing technology company in North America by Deloitte and its patented passive authentication platform is currently a Consumer Protection category finalist in the Edison Awards, which recognizes groundbreaking and innovative solutions and products in the spirit of inventor Thomas Edison.
About Payfone
Payfone is the leading digital identity authentication network for the connected world. We are trusted by the world's largest banks, insurers, brokerages and technology companies to enable effortless, omni-channel user experiences. It's all done through our patented platform, which dynamically analyzes millions of signals against multiple authentication factors to generate our proprietary Trust Score for each digital identity—the only measure of digital trust of its kind on the market today. Learn more at www.payfone.com and https://www.linkedin.com/company/payfone.
About MassMutual Ventures
MassMutual Ventures backs entrepreneurial companies that are transforming financial services and enterprise software through technology and business model innovation. Our key areas of investment include fintech, data analytics, cybersecurity, digital health and operations software. We lead or join investment syndicates into companies that are poised to create significant value through differentiated innovation and focused execution. MassMutual is the parent company of MassMutual Ventures. Learn more at www.massmutualventures.com.