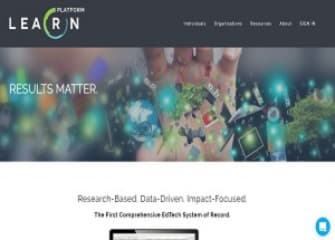 LearnPlatform, the research-backed software-as-a-service for educators to easily find, buy, manage, and rapidly analyze education technologies, today announced a $3.2 million round of financing from investors, led by New Markets Venture Partners and Emerson Collective. The investment will enable the company to enhance its product offerings and expand its services to more educational institutions and their partners.
With the proliferation of education technology products for the classroom, educators and administrators grapple with questions of proper management, privacy compliance, and efficacy. "LearnPlatform's unique solution allows for active management of what is used in the classroom and analyzes student impact based on its automatic study of usage, student achievement and cost data," said Elizabeth Chou of New Markets Venture Partners. We are excited to invest in LearnPlatform's market-leading solution for districts and universities, as we believe it will elevate the edtech space by shining a light on products that truly improve learning."
LearnPlatform is the only edtech management and rapid cycle evaluation system that equips education organizations to improve their budgets and student outcomes, ensuring K-12 and higher education learning ecosystems are safe, cost-effective, and drive the best results. The company's software-as-a-service model has expanded functionality in the past year from its industry-leading rapid-cycle evaluation (IMPACT™ Analysis) to include simplified contract management, inventory dashboards, procurement support, and configurable workflows to meet the needs of educational organizations.
"Edtech was overwhelming! In the past year, our district has seen an insurmountable increase in edtech requests. We were trying to inventory current products and research new products while struggling to determine their cost effectiveness and academic impact," said Cynthia Altmueller, Chief Academic Officer of Elkin City Schools in North Carolina. "Implementing LearnPlatform gave our teachers and leaders a simple, accessible one-stop shop to easily organize edtech products being used by teachers and students in the classroom, while safeguarding student data privacy."
Sarah Young is the coordinator of digital teaching and learning for the Utah State Board of Education, where LearnPlatform is used by local education agencies across the state to evaluate how different digital technologies are used and measure their impact on student achievement. "LearnPlatform's rapid cycle evaluation technology equips our districts and charters to improve implementation for their local needs, and gives our leaders confidence in their significant investments in digital learning," said Young. "Last month, one of our districts using LearnPlatform shared that they identified a 0.5 positive effect size for their digital math intervention with English language learners! That is an outsized positive effect any school district would love, but to be able to quickly identify that impact for a specific population mid-year (not after the fact) allows for updates to implementation, confidence in budget decisions, and sharing with peer districts. LearnPlatform is necessary for any LEA making investments in technology and is truly a game changer."
More than 2,000 schools, districts, states, universities, and associations have adopted LearnPlatform since its launch in 2015. The company also releases free resources based on its ongoing data analysis and industry research work, in order to contribute to increasing the use of evidence in technology decisions. Last month, the company released its first EdTech Top 40, an index of the most accessed tools in U.S. schools. Additional usage infographics, published white papers, and frameworks are available in the resource center.
"Our team, and each of the organizations we work with, are committed to ensuring that all students have equitable access to a quality education. Our new investors share that commitment. This investment will supercharge our efforts and make equitable access a reality for many more schools, districts, and states," said Karl Rectanus, LearnPlatform co-founder and CEO.
New Markets Venture Partners and the Emerson Collective join other notable seed investors, including Kaplan, AT&T, Edovate Capital, Techstars, and University Ventures. The funding follows LearnPlatform's expansion to more than 20 states, and recognition as an inaugural Triangle Business Journal Innovation Award recipient.
About LearnPlatform
LearnPlatform is the only edtech management and rapid cycle evaluation system that equips education organizations to improve their budgets and student outcomes. The team of educators, researchers, and technologists is committed to expanding equitable access for all students. http://www.LearnPlatform.com
About New Markets Venture Partners
New Markets Venture Partners is a venture capital firm that invests in and actively assists innovative education, information technology, and business services companies. The New Markets Team has decades of experience investing in and building high growth companies, maintains proprietary relationships with centers of innovation, and has particular domain expertise around technology and education. It prides itself on working to add value before, during and after the investment process. http://www.newmarketsvp.com
About Emerson Collective

Based in Palo Alto, California, Emerson Collective is an organization dedicated to removing barriers to opportunity so people can live to their full potential. Established and led by Laurene Powell Jobs, the group centers its work on education, immigration reform, the environment, and other social justice initiatives. They use a wide range of tools and strategies—partnering with entrepreneurs and experts, parents and policymakers, advocates and administrators—to develop and execute innovative solutions that will spur change and promote equality. http://www.emersoncollective.com