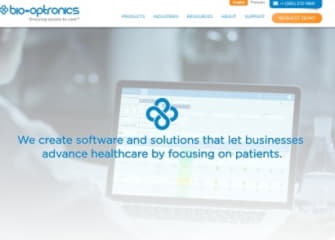 Bio-Optronics today announced a $30 million investment from Mainsail Partners, a growth equity firm that invests in fast-growing bootstrapped technology companies. Mainsail will partner with the Chief Executive Officer, Dan Kerpelman, and the existing management team to scale the business rapidly. Bio-Optronics will use the capital and Mainsail's support to accelerate product development, enhance customer service, and grow sales and marketing.
Bio-Optronics is a provider of software to healthcare organizations. The company's product suite includes Clinical Conductor, a leading Clinical Trial Management System (CTMS), Momentum, which enables fast, automated and accurate medical staff scheduling, and Biopoint, which enhances patient safety and streamlines patient workflow. Customers include leading hospital systems, clinical research sites and organizations, medical groups, and the Department of Veterans Affairs.
"Our business is founded on providing great software products with exceptional customer support," said Dan Kerpelman. "We did not need to raise capital to continue our growth, but rather chose to partner with Mainsail in order to invest more heavily in our products and in our customers' success. Mainsail took the time and effort to develop a relationship with the company over the last several years, and I am confident they will add meaningful value."
Michael Anderson, Partner at Mainsail Partners, said, "We're delighted to work with Dan and the team at Bio-Optronics. Over the years they've demonstrated an ability to develop compelling new products and features for the global market, a dedicated focus on serving their customers, and a track record of strong growth." Anderson added, "The company's Clinical Conductor product should benefit from the continued growth in the number and complexity of clinical trials, and the Momentum scheduling product should continue to grow rapidly as healthcare organizations stop building medical staff schedules manually and instead use software to help automate the process."
In addition to Mr. Anderson, Taylor McKinley, Operating Partner at Mainsail, and David Farsai, Vice President at Mainsail, will join Dan Kerpelman on the company's Board of Directors.
About Bio-Optronics
Bio-Optronics is a leading software and services company that creates user-focused applications for healthcare organizations that positively impact business performance. With applications focused on clinical research, automated resource utilization and patient safety, Bio-Optronics software is used by thousands of healthcare organizations worldwide to simplify complex business processes and enhance overall quality and efficiency.
For more information, visit http://www.bio-optronics.com or follow @BioOptronics on Twitter or LinkedIn
About Mainsail Partners

Mainsail Partners is a San Francisco-based growth equity firm that invests in bootstrapped software companies. For 15 years, the firm has partnered with exceptional founders and entrepreneurs across many end-markets. Mainsail has a team of experienced operating professionals to help entrepreneurs scale their businesses and accelerate growth. The firm has raised more than $750 million in committed capital. For more information, please visit http://www.mainsailpartners.com.