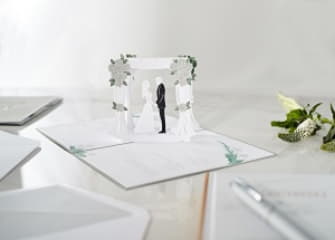 Lovepop, the technology firm reinventing the greeting card and social expressions industry, today announced an investment of $12.5 million led by Highland Capital Partners. Also participating in the round are return investors Accomplice, Wayfair CEO and co-founder Niraj Shah, Crashlytics founder Wayne Chang, DraftKings CEO and co-founder Jason Robins, and Bain Capital's Bob White. In conjunction with the financing Lycos founder and Highland Capital Partners, General Partner, Bob Davis, will join the company's Board of Directors.
Lovepop has enjoyed explosive growth over the last two years as it continues to disrupt the $7Btraditional greeting card industry through the deployment of creative technology tools, both licensed and proprietary content, and omni-channel distribution. The company's products are available at www.lovepop.com, at hundreds of specialty retailers, and at over 15 company-owned retail locations. Also, the company recently introduced a complete line of wedding invitations that further leverage its patented pop-up architecture in what represents an additional $2B in market potential. Says Davis: "Lovepop participates in a massive market that has historically seen limited innovation and is poised for disruption. The team has a broad vision to recreate an industry and with an NPS of 87, it is clear customers love the company and its products."
Lovepop was founded in 2014 by former ship designers and college classmates John Wise and Wombi Rose while attending Harvard Business School. The pair fell in love with the art and craft of sliceform kirigami on a business school project in Vietnam, and recognized the relevance of sliceform structures used constructing ship's hulls. In an imagination meets engineering approach, the pair applied the same 3D ship design software they learned studying naval architecture at Webb Institute and state-of-the-art laser cutting equipment to create SlicegamiTM: mini engineering marvels and pieces of art. The company's goal is to completely redefine the category of social expressions.
In 2017, Lovepop nearly tripled in size, growing to become a 600-person global team, and plans to use this financing to continue to build out their technology, marketing, and design teams, invest in their manufacturing and operations, and scale their custom wedding invitation business.
The company also announced today the addition of Diane Swint as the General Manager, Consumer Business. Prior to joining Lovepop, Diane spent 8 years at Vistaprint's parent company Cimpress where she held a variety of executive positions, including running strategy and operations for the 2,000 person global Technology Development and Manufacturing organization and running Cimpress Open as its general manager. Prior to Cimpress Swint held positions in brand management at Procter & Gamble and GAP, and strategy consulting for LEK and Monitor. Swint holds an MBA from Harvard Business School.
Lovepop has grown more than 270% in the last twelve months, and is planning robust growth yet again for the next year. 2017 was also a year that saw a myriad of marquis partnerships for Lovepop. The company reached agreement with HBO for a line of "Game of Thrones" cards, with the Beatles to recreate iconic album covers in Slicegami™ form, with Henri Bendel to create unforgettable holiday window displays on 5th Avenue in New York City, and with the Billboard Music Awards where Lovepop's original 3D designs replaced the traditional envelope openings, and wowed winners from Drake to Korean pop group BTS.
"It's really hard to be thoughtful," says Rose, "but when you do something unexpected for someone, it can really make their day. Sending a Lovepop creates an unexpected moment: you get an ordinary envelope in the mail but when you open it you find a 3D dragon, or a beautiful willow tree love scene. We want to help our customers make every occasion awesome, and find more ways to create magical moments for the people around them. No occasion is too small, and no relationship too insignificant to go out of your way to make someone's day just a little bit better."
About Lovepop
Lovepop is on a mission to create one billion magical moments. Co-founders Wombi Rose and John Wise, both graduates of Harvard Business School, are trained shipbuilders and graduates of the Webb Institute, who apply the sliceform structure used in ship design to the ancient art of kirigami in a technique they call SlicegamiTM. Imagination meets engineering, and the result is stunning, intricate paper art. Lovepop earned an investment from Kevin O'Leary on ABC's "Shark Tank" in 2015, is a winner of Inc. Magazine's 2017 Design Awards for Category Reinvention, and has been named one of Boston's"On Fire" start-ups for three years in a row. Lovepop co-founder John Wise was selected into Forbes 30 under 30 in 2017. With hundreds of 3D designs to choose from, there is a Lovepop for every person in your life.
For more information visit lovepop.com and follow the company on Facebook & Instagram = @lovepopcards, Twitter = @lovepop
About Highland Capital Partners
Founded in 1988, Highland Capital Partners is a global venture capital firm focused on putting the entrepreneur first. With offices in Palo Alto and Boston, Highland has raised over $3.5 billion in committed capital and invested in more than 271 companies, resulting in category-defining businesses across consumer and enterprise technology. Investments include 2U, CheckFree, Gigamon, Harry's, nuTonomy, Freshly, Rent the Runway, Catalant, Malwarebytes, Qihoo, Starent Networks, Sybase, and VistaPrint,. For more information, visit www.hcp.com.